Revolutionizing Wildfire Monitoring with ICEYE's SAR Technology
The intensity and frequency of wildfires are amplified by climate change and inadequate forest management practices worldwide.
In August 2020, the Western United States was severely impacted by an array of substantial wildfires across California, Oregon, and Washington, with additional fires igniting throughout the West Coast in early September. According to the NOAA's database, five of the top six largest wildfires on record in California (dating to 1932) burned during this period.
Strong winds and hot, dry conditions led to many of these fires merging and escalating into unprecedented mega-fires. This record-breaking U.S. wildfire season burned over 10.2 million acres (41,000 square kilometres), engaged tens of thousands of firefighters, and reached more than ten thousand structures. The economic toll of the fires exceeded $19 billion (2020 USD), encompassing $16.5 billion in property damages.

The event demonstrated the complexity of challenges facing insurers and disaster response teams when dealing with wildfire disasters on this scale, especially in assessing damage due to heavy smoke, ash, and restricted access to affected areas.
Key amongst these is the ability to establish proof of loss when it is impossible to access affected areas or see through heavy ash and smoke, which can hinder the claims process and delay communication with stakeholders. This is set to change now, as ICEYE's Synthetic Aperture Radar (SAR) technology is poised to transform how insurers and disaster response teams assess wildfire damage.
near real-time wildfire monitoring
Using the same Synthetic Aperture Radar (SAR) technology that ICEYE already uses for flood impact assessments worldwide, ICEYE can track wildfire events in near real-time and share valuable data insights with our stakeholders.
Unlike optical aerial imagery, SAR satellites — thanks to their capability to acquire imagery under any conditions — can provide rapid feedback during a wildfire event and subsequent 24-hour interval updates, enabling insurers to quickly and accurately process claims.
For those charged with protecting people and property, we can offer building-level information on what is happening on the ground. In addition, using various data sources, we can even tell where there are active fires and how close these are to built-up areas. These early warnings will become increasingly important as societies prone to wildfires seek to improve their response and resilience.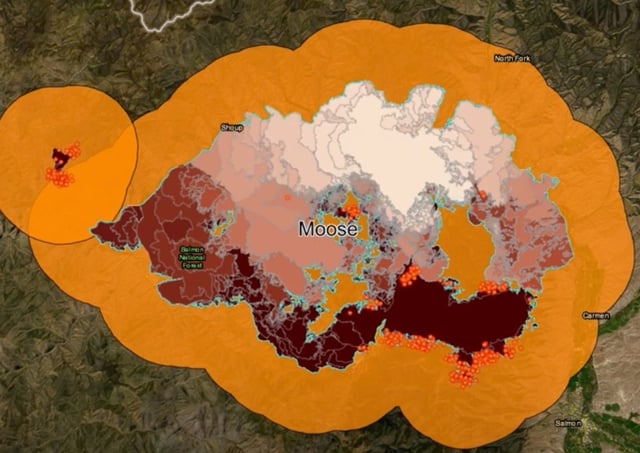 Our web application currently displays active wildfires in the US.
A binary approach to wildfire building damage assessment
By the end of the year, ICEYE plans to roll out its Wildfire Building Damage Assessment product, initially focusing on the US, followed by Australia and Canada. This cutting-edge tool is already in Beta phase and includes the following:
the wildfire monitoring application which displays all active events and

the building damage assessment providing whether a property is destroyed or not.
Compared to our Flood Insights, the main difference with wildfire data assessments is that they are binary in nature, at least for the current time. Our methodology is based on machine learning and can determine which structures are intact and which are fully destroyed.
For insurance and reinsurance companies, this offers an initial damage assessment that needs to be followed with an on-the-ground loss assessment for properties that have suffered partial damage (although partial damage is quite rare in the case of wildfires). ICEYE's insights assist with this second stage by indicating where resources are best deployed and ensuring the ongoing safety of on-the-ground personnel.


ICEYE delivers the output in a vector format (either latitude, longitude points or building footprints).


It is hard not to be excited about the potential of these powerful earth observation insights into wildfires and their impact on affected communities.
There is enormous potential to build upon the product in the future, devising innovative risk transfer solutions, rolling out to all wildfire-affected regions and broadening the range of assets we monitor and assess - for instance, automobiles and working with farmers.
For now, our wildfire damage assessments provide access to property damage information rapidly, regardless of how much smoke and ash is clouding the air.