Handling Claims for NatCat Events: The Moment of Truth for Insurers
What if you could proactively keep your customers informed in the immediate aftermath of natural catastrophe events? How much better could the claims experience be?
In a recent webinar hosted by ICEYE and SPLICE Software, the two companies teamed up to discuss how their partnership seeks to leverage near real-time flood insights and communication automation to take the claims process to the next level.
By utilizing integrated data from insureds and partners like ICEYE, SPLICE intelligently keeps policyholders informed throughout the lifecycle of a claim. "New data is becoming available all the time to further streamline and customize the claims workflow to each customer", explained Tara Kelly, President and CEO of SPLICE Software.
Kelly noted the importance of this as claims handling is one of the most crucial aspects of catastrophic event management, adding that claims are the "moment of truth" for the insurance industry.
Focusing on floods as a peril, Kelly talked about how floods were and are continuing to increase in both frequency and severity. This is supported by the latest Swiss sigma report as well, which concludes that in 2021, there were over 50 severe flood events around the world, resulting in combined economic losses of over $80 billion.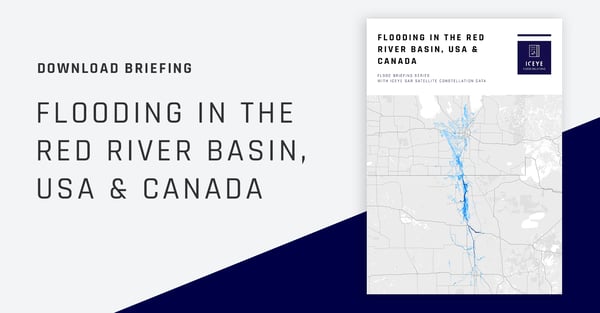 ---
Enabling a More Efficient Claims Process
SPLICE is no stranger to utilizing integrated data, as Kelly mentioned, "One of the things I've always believed in, is using data for good, and the fact that we believe it can be better. This idea of using data for good is what really got us excited about ICEYE as a partner. The ability to bring in another layer of data for policyholders in that time of need." Leveraging this data effectively allows for the right data to be sent to the right people at the right times.

Nathan Uhlenbrock, our Head of Solutions Product at ICEYE, explained how our company was revolutionizing space-based radar, which is as cool as it sounds. "We've launched 16 satellites, which are in orbit right now and we're using them to monitor the earth. Unlike other space companies, we've decided we want to convert that SAR imagery into something that is valuable to the insurance ecosystem", he added.

ICEYE's current focus is observing natural catastrophes in near real-time. Through its partnership with SPLICE, ICEYE brings flood observation data (enriched with other publicly available data sources) into the process, enabling a higher level of accuracy and efficiency in the claims process.


N

ext-level Customer Experience Supported by Meaningful Data

"Right after a flood, ICEYE is producing an observation-based output, which shows what actually happened," said Nate. "We produce an output that allows you to overlay what happened with information about your insured assets."

Armed with this information, carriers can ascertain which of their customers have been impacted and to what extent, with a speed and precision that was not previously possible. This allows carriers to determine how to best allocate resources. Deploying loss adjusters to the worst-hit areas, for instance, supports immediate claims pay-outs in the case of more straightforward losses.

By harnessing the capabilities of automated communications in combination with near real-time hazard and loss insights, the claims handling process becomes a more streamlined and straightforward process for both the insureds and the insurers. "The goal is to take the customer experience to the next level with really meaningful data behind it," Kelly added.


Reducing Losses by Improving Preparedness
Both panelists agreed that a quick and efficient settlement of claims is essential to helping communities get back on their feet as quickly as possible. "The average claim time is two- to six weeks and it can be even longer than that," highlighted Kelly. "When you can build efficiencies into the workflow, it leads to a much better customer experience."

ICEYE and SPLICE's collaboration also offers potential for loss mitigation. Early flood warnings can improve preparedness ahead of a major event, reducing the impact a flood has on the areas it hits. Policyholders can be alerted to move their vehicles and other valuables to higher ground prior to a weather event, for instance.

"We want to use the data to help us make smarter, more analytical decisions and to give policyholders the fastest path through that claim," concluded Kelly. "It is going to make an immediate impact to policyholders, and ultimately, for their claims experience."

If you are interested, you can learn more about ICEYE's Flood Insights, or take a look at our latest Flood Briefings here.