See Through Clouds: How SAR Technology Helps Insurers Stay Ahead of Natural Disasters
Natural catastrophes (natcats) can be devastating, not only in terms of the loss of human life but also in terms of economic impact. However, Synthetic Aperture Radar (SAR) technology offers a new level of insight into how catastrophes unfold worldwide. With its ability to track natural peril events in near real-time, SAR can provide valuable information that can be used proactively by insurance companies and governments to protect those at risk.

ICEYE is a leading provider of SAR technology, with live capabilities for flood, wildfire monitoring in beta, and R&D efforts focused on developing SAR applications in wind damage, volcanic eruptions, and asset monitoring.
Revolutionising disaster response: how SAR technology is leading the charge
You do not have to be an expert to understand why radar data has fewer limitations than satellite optical imagery. Nobody is better at explaining this than our Global Head of Insurance, Stephen Lathrope. In his latest webinar, he explains what makes SAR different and why it is essential for building resilience in an increasingly risky world.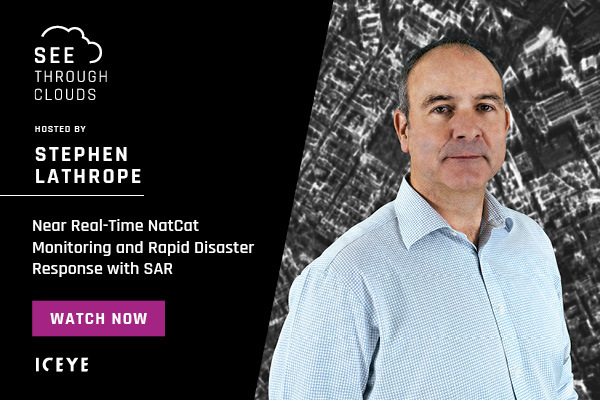 Watch the webinar: Near Real-Time NatCat Monitoring and Rapid Disaster Response with SAR
This blog highlights a few takeaways from Stephen's webinar, where he uses real-life examples from recent floods in Australia and explains why wildfire is a somewhat simpler - and more localised - peril to capture.

In his webinar, Stephen describes that, unlike optical systems, SAR is not dependent upon the sun's rays to capture changes on the earth's surface, which means ICEYE's satellites can monitor catastrophe events in the dark. Moreover, SAR can see through clouds, dust, smoke, and volcanic ash. Thus, SAR can detect what's happening on the earth's surface 24/7, whatever the weather or other atmospheric conditions.

In the words of Stephen, "synthetic aperture radar is an active sensor. We send a signal, and we receive a signal. We're not dependent on the reflection of sunlight."
Flood extent in Hawke's Bay, New Zealand, during Cyclone Gabrielle in February 2023.
Capturing floods as they happen
ICEYE's capabilities are not limited to observing how a nat cat unfolds. Instead, we collaborate with partners to use the insights it captures from SAR to minimise losses during an event and help communities recover as quickly as possible post-loss. For instance, ICEYE's meteorologists have developed a sophisticated method for predicting where major flooding is likely to occur up to three days before an event occurs.

This information is then shared with insurers and government agencies so that they can consider that in their planning, including early warnings and evacuation orders. Additionally, ICEYE's satellites are tasked to capture imagery before, during, and after an event so that as much radar imagery as possible can be captured throughout the event as it develops.

What makes the data so powerful is how it is combined with other data, such as digital terrain models and river gauge data, to share maps showing where the water is. Within six to eight hours, the initial flood extent data is combined with a neighbourhood-level view of assets on the ground, including insured properties and vehicles, to indicate what happens during a live event. Moreover, within 24 hours after the peak of an event, clients receive their first high-resolution analysis of water extent and depth.
"Understanding that level of water around an insured property is valuable to insurance companies in deciding how to react to what's happened and how to provide the best possible assistance to their customers," explains Stephen.

During the webinar recording, he shows examples of so-called 'strip maps' - which are 25 km by 75 km SAR images - from a major flood incident in Queensland, Australia, so viewers could visualise how the hazard data is captured and what it shows. This includes flooding at different depths - with the underlying terrain - pinpointing existing bodies of water (e.g. lakes and rivers) and the location of river gauges.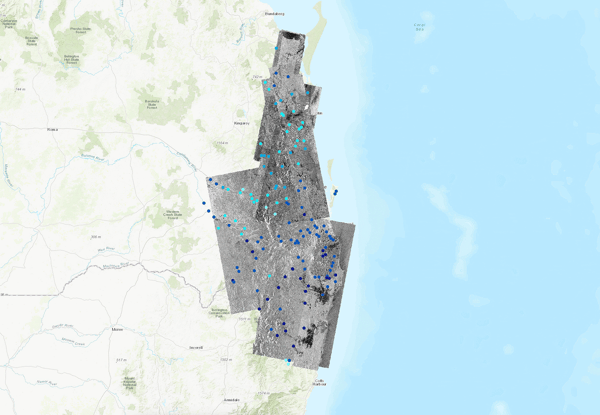 High resolution multi-mode collection with high revisit rates is critical for capturing all perils spatially & temporally with SAR technology.
Seeing through smoke: wildfire monitoring
With a recent US example, Stephen also demonstrates how ICEYE's SAR technology can detect wildfire and why we need fewer SAR images to accurately capture a wildfire in near real-time. The localised nature of the hazard and how it progresses means it is easier to see where there has been a change in the landscape due to fire.

ICEYE uses machine learning to determine whether a property has been destroyed or severely damaged by fire. "Because we're looking from space, and we can see through smoke, and we can see through cloud, and we can see 24/7 because we're not dependent on daylight. For wildfire, this is an especially unique capability. We can observe what is happening behind a fire as it moves while burning. And we can do it well before you can fly in aircraft or drones or get anywhere close with boots on the ground", he adds.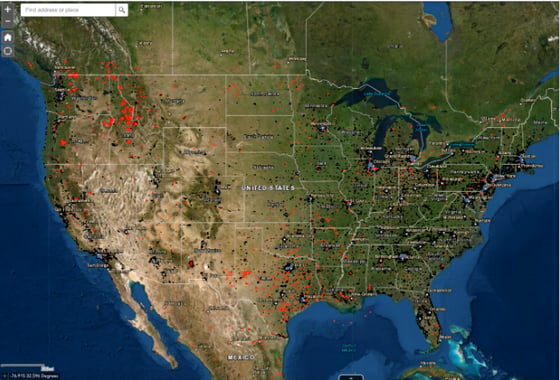 This is a preview of our wildfire monitoring and targeting application (currently in beta), displaying all the active wildfires in the US.
Using observation data proactively
ICEYE also delivers its observation data to partner platforms, including ICEYE Insights, a platform supported by EigenRisk®. This platform enables people to combine the depth of water with individual property locations, together with more data about those individual properties. This way, if an insurer looks at this during a major event, they can make a rapid assessment and estimate the likely cost of claims related to that individual property before the event is finished.

The ability to capture accurate damage information like this within 24 hours is a true game changer when it comes to nat cat response. And it has exciting applications across the insurance value chain.

"Insurers reduce the cost of claims by getting hold of events as they are developing, providing loss-limiting advice to customers and providing a much more rapid response on the ground," concludes Stephen.

If you missed the webinar, you could listen to the on-demand recording by signing up below.