Unlock the Power of Data with ICEYE's NatCat Insights on Esri ArcGIS
Data is only valuable when you can transform it into actionable insights. That's why we're thrilled to announce our expanded partnership with Esri, the market leader in geographic information system (GIS) technology, location intelligence, and mapping.
Esri provides its users across the public and private sectors with direct access to near-immediate natural catastrophe insights at the property level, as their software is deployed in over 350,000 organisations globally, including Fortune 100 companies, governments, and emergency response agencies.
Get Quicker, Easier Access to Natural Catastrophe Insights
As a Silver Partner, ICEYE's natural catastrophe data is now available to all Esri software users through ArcGIS. This integration provides tools for data capture, analysis, and sharing, enabling detailed spatial analysis and real-time visualizations to improve response capabilities and operational awareness.

Through their existing Esri environment, Esri customers can now access ICEYE's near real-time, high-resolution data for natural catastrophe events worldwide. This information, including flood extent and property-level inundation measurements, is crucial for critical decision-making during natural disasters.

In the following, I will explain the three different ways how Esri users can access ICEYE insights.
Option 1: Get ICEYE data via the Esri Transfer Application
The Esri Transfer Application is a powerful new tool that allows end users to pull ICEYE insights directly into their ArcGIS Online or ArcGIS Enterprise environments with just a few clicks. When a new ICEYE insights dataset is available, end users will be sent a link, prompting them to sign into their ArcGIS account.

Once signed in, the transfer will automatically begin and in less than 15 minutes flood depth (raster), extent (vector), and release notes (vector) will be available within the user's account. Metadata about the flood event is applied automatically to the uploaded layers' description and because the end user is the full owner of the layers they are free to modify the title, summary, description, and tags.

The transfer application requires the end user to have Esri's Image Dedicated Processor which enables the flood depth to be delivered as a tiled imagery layer. This layer type includes pixel-level information on the flood depth in meters rather than just being an image for visualisation purposes. Having the actual pixel data allows for spatial analysis using ICEYE insights and the end users' own data such as finding the depth statistics in certain areas of interest.

With automatic metadata and programmatic access via ArcGIS REST API endpoints, this option is perfect for users who want full control over the data.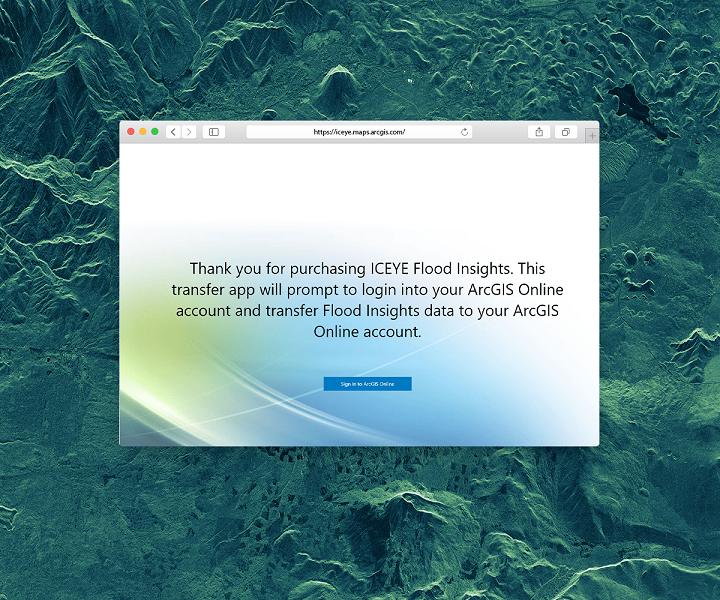 Illustration: The Esri Transfer Application is a powerful new tool to get direct access to ICEYE data.
Option 2: Tap into ICEYE-hosted services on Esri ArcGIS
This delivery option differs from the transfer application in that ICEYE will host and manage the uploaded layers, which will be automatically shared to end users via Group Sharing. This means that end users will not need to click on a link and sign in when new files are ready, the files will be automatically shared with the group and the layers will simply appear in the end users' environments.

Additionally, the end user would not be responsible for storage credits, as all the files would be hosted under ICEYE's ArcGIS Online organization. One final difference is that the end user will not be able to update the title, summary, description, and tags of the layers because they are not the owner.

The end users still have access to the same layers, flood depth in a tiled imagery layer, flood extent and release notes in hosted feature layers. This enables the same visualization and access through ArcGIS REST API endpoints as the transfer application does. The end user will have some vector-based spatial analysis tools available for inspecting the flood extent but will need Image Dedicated Processor enabled to have access to the raster spatial analysis tools to interrogate the flood depth to get a deeper understanding of the flood event.


Users can now tap into ICEYE-hosted services on Esri with just a few clicks.

To sum it up, with this option, end users will have access to the same flood depth, extent, and release notes layers, but with limited ability to update the data.
Option 3: Leverage an ICEYE-hosted application on Esri ARCGIS
The final option to access ICEYE insights is via an ArcGIS Online Application. This option is meant for end users who are not necessarily interested in spatial analysis, but rather just having an easy visual of the data for situational awareness purposes. ICEYE would provide end users with login credentials to ArcGIS Online and once the user has logged in, they would be able to browse all the viewer applications they are subscribed to.


This option is low-maintenance, with no need to set up or maintain viewer applications, but it doesn't allow for spatial analysis.

The benefit of this option is there is no need for the end user to set up and maintain their own viewer applications. ICEYE would build the applications out, maintain them, and pay for the storage of hosting them. Again, any spatial analysis would not be possible with this option, but it is a very lightweight method to access ICEYE insights.
Overall, with ICEYE's NatCat insights now available on Esri ArcGIS, you can quickly and easily access the data you need to make informed decisions during natural disasters. Get started today!