Introducing ICEYE Insights
Make informed and data-driven decisions with near real-time situational awareness for floods.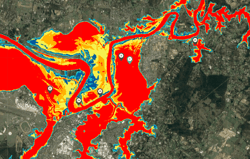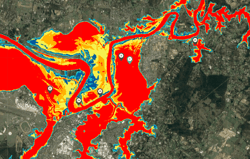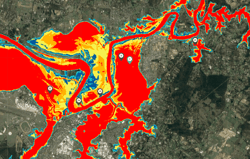 A Plug and play Geospatial Analysis Platform
ICEYE Insights provides a new way of interacting with the comprehensive and reliable flood hazard data that ICEYE delivers to its P&C insurance customers. This enables your business to proactively communicate with your customers, refine the allocation of field resources, enhance triage of claims, identify opportunities to make provisional payments or early total loss settlement, estimate the cost of damage to individual properties and your portfolio overall, and optimise your reserves.
ICEYE Persistent Flood Monitoring
near real-time situational awareness with Stephen Lathrope
Get direct access to unique and powerful flood hazard data
The ICEYE Insights platform seamlessly integrates ICEYE's flood observation data and analysis with your property insurance portfolio, so you can immediately understand the impact of a flood event. By knowing which specific customers were impacted by flood waters, or how deep the water was at each customer location, you can send resources to the worst-hit areas with confidence and begin triaging claims.
Actionable Insights
ICEYE bridges the gap between information and actionable data by combining SAR satellite imagery with multiple auxiliary information sources to create fully operationalized flood hazard insights.
Near Real-Time
We provide near real-time data for flood depth, extent, and duration, within hours of a given flood peak, empowering our clients to calculate losses and carry out disaster response efforts in a more effective and targeted manner.
Always-On
Our SAR technology allows our clients to see through darkness and clouds, offering a reliable and consistent method of measuring and reporting flood hazard data before, during, and after the occurrence of a flood event.
How it works
Utilising the EigenPrism® catastrophe risk management tool, the ICEYE Insights platform is automatically updated with data and analysis from ICEYE's Flood Insights product in near real-time following a flood event. The data includes high-resolution reporting of flood extent and measurement of depth required to assess the impact on individual buildings. Insurers can seamlessly upload details of their property portfolio via an API, and instantly visualise and analyse a flood event's impact on their personal and commercial insurance customers.
Latest flood briefings
Explore our collection of near real-time flood mapping and analysis from across the globe.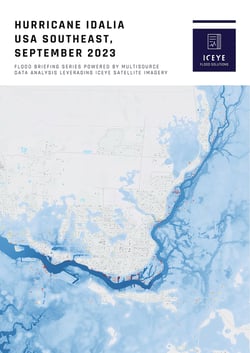 PDF
Flooding from Hurricane Idalia in Southeast US
View ICEYE's flood briefing on the flooding from Hurricane Idalia in Southeast US from September 2023.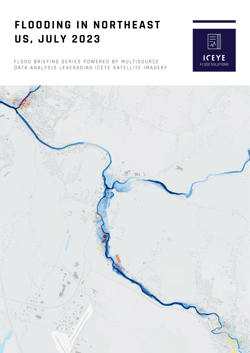 PDF
Flooding in Northeast US
View ICEYE's flood briefing on the flooding in Northeast US from July 2023.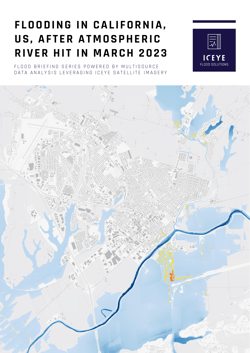 PDF
Flood Briefing: California, US
View ICEYE's flood briefing after atmospheric river hit in California, US
Stay in the know
Our clients have access to near real-time hazard and damage data to accurately and quickly respond to natural disasters, improve their decision-making, and ultimately transform their customer experience.
Contact us
Subscribe to natcat insights