GOVERNMENT SOLUTIONS
ICEYE's synthetic aperture radar (SAR) satellite constellation is the world's first global and always-on data utility available to fulfill the unique needs of the public sector.
WORLD MONITORING SOLUTIONS TO ENHANCE RESPONSE & RECOVERY
ICEYE's large constellation of New Space satellites provides access to an entirely new level of persistent monitoring for any location on earth - uninterrupted visibility, day and night, in any weather conditions, enabling a transformative capability for the public sector agencies leading response and recovery.
A New Level Of Situational Awareness
Near real-time hazard data allows governmental decision-makers to understand the true impacts as a natural catastrophe is unfolding. Moreover, property-level insights enable a degree of situational awareness that hasn't been available before.
Enhanced Disaster Response Capability
Knowing the scale of impacts brings confidence to responsible decision-making. This enables more effective communications across agencies and stakeholders at all levels.
Faster Assistance & Relief
When it comes to floods, data showing the extent and depth of flooding at the building level allows officials to target assistance to survivors most impacted. ICEYE data itself drives the capability to transform assistance delivery, rather than waiting for information from responders or adjusters on the ground.
Improved Recovery Outcomes
More timely and accurate delivery of assistance helps survivors recover and get back on their feet faster. The improved response and remote assessment capabilities allow a more resilient recovery for the whole community.
Increased Financial Resilience
Accurate hazard data can serve as the basis for unique insurance structures that expedite payments and tend to immediate financial needs in recovery. Positioning "parametric insurance" structures based on ICEYE's data ahead of the event can help drive financial resilience.
Public Sector Specific Solutions
ICEYE is focused on the needs of government agencies and the emergency management community. Our dedicated teams are led by experts in public policy, meteorology, hydrology, and GIS domains.
ICEYE'S
PERSISTENT FLOOD MONITORING CAPABILITY IS ALWAYS ON
WITH
56 FLOOD ANALYSES PERFORMED ACROSS THE GLOBE IN 2021
IMMEDIATELY UNDERSTAND IMPACTS AND RESPOND DECISIVELY TO NATURAL DISASTERS
ICEYE is developing a suite of hazard and
damage data products for various natural perils.
Solutions overview
Flood monitoring
Base your decisions on reliable near real-time data, both extent and depth for all floods, supported by ICEYE's Synthetic Aperture Radar (SAR) satellite technology.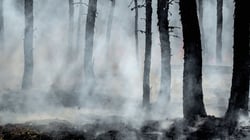 BETA
WILDFIRE MONITORING
Respond to wildfires in innovative ways by leveraging ICEYE's unique persistent monitoring capabilities.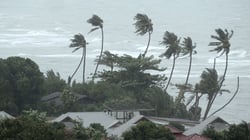 BETA
WIND MONITORING
Gain access to situational awareness and near real-time damage data related to storms that occur across the globe.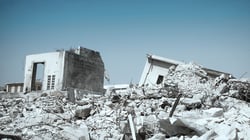 BETA
Earthquake Monitoring
Embrace a proactive approach with ICEYE's actionable insights before, during, and after an earthquake.
DOWNLOAD OUR LATEST FLOOD BRIEFINGS
Explore our collection of near real-time flood mapping and analysis from across the globe.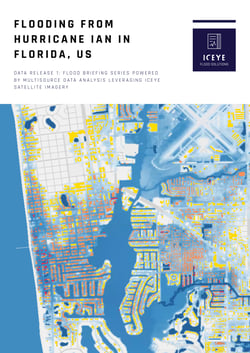 PDF
Flooding from Hurricane Ian in Florida, US
View ICEYE's flood briefing on the flooding from Hurricane Ian in Florida, US.
PDF
Flooding from Typhoon Nanmadol in Japan
View ICEYE's flood briefing on the flooding from Typhoon Nanmadol in Japan.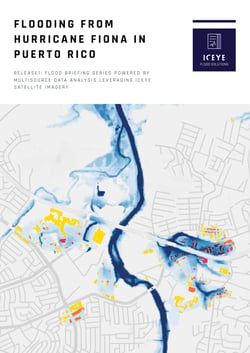 PDF
Flooding from Hurricane Fiona in Puerto Rico
View ICEYE's flood briefing on the flooding after Hurricane Fiona in Puerto Rico.
STAY IN THE KNOW
Our clients have access to near real-time hazard and damage data to accurately and quickly respond to natural disasters, improve their decision-making, and ultimately transform their customer experience.
Contact us
Subscribe to natcat insights