Better Flood Risk Management for Insurers
The explosion of data around flood risk was the topic of a webinar hosted by InsuranceERM and ICEYE earlier in September. Against the backdrop of the devastating floods in 2022, panellists discussed how observation data was transforming flood risk management, while acknowledging ongoing data shortfalls. Most pressingly, the need for high-resolution terrain information on a more global basis.
MITIGATING FLOOD RISK in a changing climate
There is no doubt that climate change is impacting the frequency and severity of flood events worldwide, according to the panellists, and that the insurance industry is beginning to think differently about the hazard.
As the planet warms, it impacts multiple drivers of flooding. More moisture in the atmosphere results in wetter tropical cyclones and more intense pluvial and fluvial flooding. At the same time, ice melt and sea level rise contribute to greater storm surges and coastal flooding, according to John Scott, Head of Sustainability Risk, Zurich Insurance Group.
"For the insurance industry, it's a very important challenge to understand how climate change is affecting the flood models and to figure out what to do about accumulation risk management," he said. Because of its complex and dynamic nature, flood was historically considered an 'unmodelled peril', noted Nalan Senol Cabi, AVP, Catastrophe Model Research at Arch Insurance Group.
In fact, it was not until surprise accumulation events, such as the Thai floods of 2011, that stochastic models became available for insurers to assess the risk better. But while mature insurance markets now have access to such tools, they remain unavailable for many parts of the world.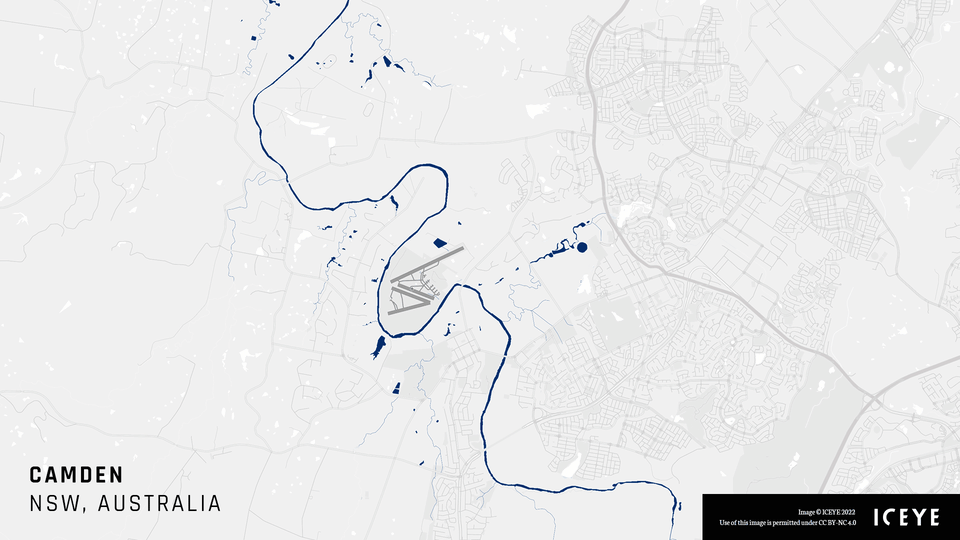 Before and after visuals capturing the flood extent and depth in Camden, Australia, as parts of the Greater Sydney area received about eight months of rain in four days.
WORKING WITH UNCERTAINTY
As the panellists described, models are simply an approximation of reality. It is essential to understand the assumptions that go into them and the inevitable uncertainties when using them for exposure management and pricing.
"It is difficult to model the hazard component - the frequency and intensity at a location level," said Cabi. "And meanwhile, frequency and severity based on impact have been changing. We are seeing increases in severity, especially around the tail. Vulnerability plays a significant role as well."
"There is always a discrepancy between what is happening on the ground and what we are modelling – simulating nature is an impossible task – so we have to understand the assumptions and their strengths and weaknesses."
"Use them wisely," she advised. "Choose fit-for-purpose models and build your own view of risk around the available tools."
Whereas in the past, floods were described as a 'secondary peril', this is no longer the case. Instead, insurers should begin to differentiate between 'acute' and 'chronic hazards', thought Alan Godfrey, Exposure Management Principal, Sompo International.
For a risk as granular as flood there is no substitute for 'good old-fashioned underwriting', he thought.
"Sometimes we criticise models for not being able to do everything. We now have a wide range of tools available to us and really the challenge is how and when we use the models? And what else are we doing?"
INTERROGATING TERRAIN DATA
It is evident that floods will become more frequent and severe and that we need to 'learn to live with them', according to Stephen Lathrope, Global Head of Insurance at ICEYE. "The insurance industry needs to think more broadly about the impact and the risk associated with flood and it is clear we are coming to this with nothing like as much knowledge and experience around modelling as is available for other hazards," said Lathrope.
Instead, a 'quiet revolution' is underway, with multiple sources of data – including earth observation data – helping the industry to improve its approach to flood risk management. Data and analytics would be vital to building more flood-resilient societies.
"The industry has been successively getting better at forecasting and more and more data is coming that will help us adapt and behave differently around floods," he said. In the future, it will be a crucial challenge to gain access to high-resolution terrain data and pull it together to create actionable insights.
There is a huge variety in the quality of terrain models around the world, explained Lathrope, noting that the highest resolution currently available in Pakistan is 30 meters by 30 meters. This compares to an average resolution of 10m by 10m in more data-rich markets, reaching an accuracy of one meter square in many urban centers.
And terrain matters, he pointed out. Relatively small discrepancies in terrain – such as dips in the landscape or a sudden change in substrata – can significantly influence how flood waters will pass through an area.
"Even where you have what looks like a high-resolution terrain model, it will be wrong in places," added Lathrope. "They are not perfect and we tackle that by interrogating that and building in a confidence score."
PrepAring for a flood event before it occurs
ICEYE is working hard on pulling together multiple data sources and knitting them together, using machine learning and overlaying our proprietary observation datasets to manage flood risk better.
While currently, ICEYE's Flood Monitoring insights are mainly being used to inform the industry's post-event response, he thought there was an opportunity to enrich the models in the future to better prepare insurance carriers and their stakeholders before an event even occurs.
"We work hard to predict everything we can and to capture imagery from the outset – and we normally beat the flood gauges," explained Lathrope. "We create a timeline of how the event has progressed. We communicate very quickly when something is about to happen or has happened as this can help insurers deploy their resources to centers of most disruption. This is where ICEYE has done more of its work than on the prediction side, but we're really excited to see where we could take that granularity of understanding into the modelling side."
If you are interested, you can watch the on-demand webinar recording below: