Guidewire's Insurtech Vanguards Competition - What a Win for ICEYE!
There was a lot of excitement in the run-up to the world's largest insurtech event, Insuretech Connect 2022 before it got underway at Mandalay Bay, Las Vegas last week - with a packed agenda and hundreds of eager insurance leaders and innovators.
For ICEYE, the ultimate highlight was being announced as the winner of Guidewire's Insurtech Vanguards Pitch '22 competition, which took place on the evening of 21 September at the Chateau Rooftop, Paris Hotel and was sponsored by Guidewire PartnerConnect Consulting Partner PwC.
And the winner is...ICEYE! Laura Drabik announcing the jury's decision for Guidewire's Insurtech Vanguards Pitch Competition 2022.
Winning Guidewire's first-ever Insurtech Vanguards Pitch competition was a huge honour for ICEYE and a superb endorsement of the transformational role that earth observation data can play in the insurance industry. Presenting our capability as part of ITC Vegas - among the good and great of the insurtech world - could not have given us a bigger boost and we are still feeling the adrenalin rush.

Guidewire's Insurtech Vanguards – a community for selected startups


The Guidewire Insurtech Vanguards Program is a great showcase for technologies that have the potential to help provide a genuine competitive advantage in P&C insurance. The program was launched in October 2021 and involves 40 startups.
In the run-up to ITC, ICEYE was selected as one of 10 finalists that would have the chance to compete for the ultimate prize. The final round of the competition involved each of the shortlisted companies presenting a four-minute 'pitch' of their capability and value proposition to a jury of P&C industry experts and attendees - who were also able to cast a live vote at the event.
---
Innovation and collaboration for better catastrophe risk management
Four minutes is not enough time to communicate fairly complicated content! So in the weeks leading up to the final, we thought long and hard about how to pack in the key messages that we believe describe what is different about ICEYE. Two essential things stood out (as they have done from ICEYE's inception): we bring true innovation to the world of catastrophe risk management and know the importance of collaboration.
In recent years, many insurtech startups have focused on distribution and have taken considerable strides in improving efficiency and enhancing the customer journey. But ICEYE's unique proposition - including a growing constellation of private satellites dedicated to tracking natural catastrophes in real-time - offers the insurance industry something it hasn't seen before.
I talked about our earth observation data and why it is a real game-changer for responding very rapidly to major flood and fire events. Crucially, our radar technology - which penetrates through the dark, clouds and smoke - enabling observation of change on the earth's surface with a level of frequency and accuracy that was not possible a few years ago.
We really wanted to bring our capability to life for the audience, so we were delighted to get some great feedback on the video 'flyover' of ICEYE's analysis of February's devastating floods in New South Wales, Australia, created by our partner Esri, using ICEYE's analysis of February's devastating floods in New South Wales, Australia.


Combining flood extent data captured by ICEYE with building data from Geoscape, Esri to understand the impact of floods in New South Wales, Australia.

The video demonstrates how ICEYE's flood monitoring insights can be combined with property data (in this example, provided by Geoscape) over a massive area to determine which assets were impacted and deliver an accurate analysis in just a few hours.

---
Partnerships to shape the InDUSTRY's future
From parametric insurance products to disaster response and claims management, ICEYE is already working with many of the industry's most prominent players - including Swiss Re, Aon, and Tokio Marine - but there is still vast untapped potential in the market.
It's great to be working with such a unique and powerful capability, day to day, but quite another to have it validated in such an esteemed company. We're still pinching ourselves!
A massive thank you to Laura Drabik - Guidewire's Chief Evangelist - and the rest of the team at Insurtech Vanguards, and of course to all of our fellow startups that pitched so well on the night. As Laura so accurately observed, Pitch Day has become a phenomenon and will pave the way for other visionary insurtech startups to continue making waves and transforming the future of insurance.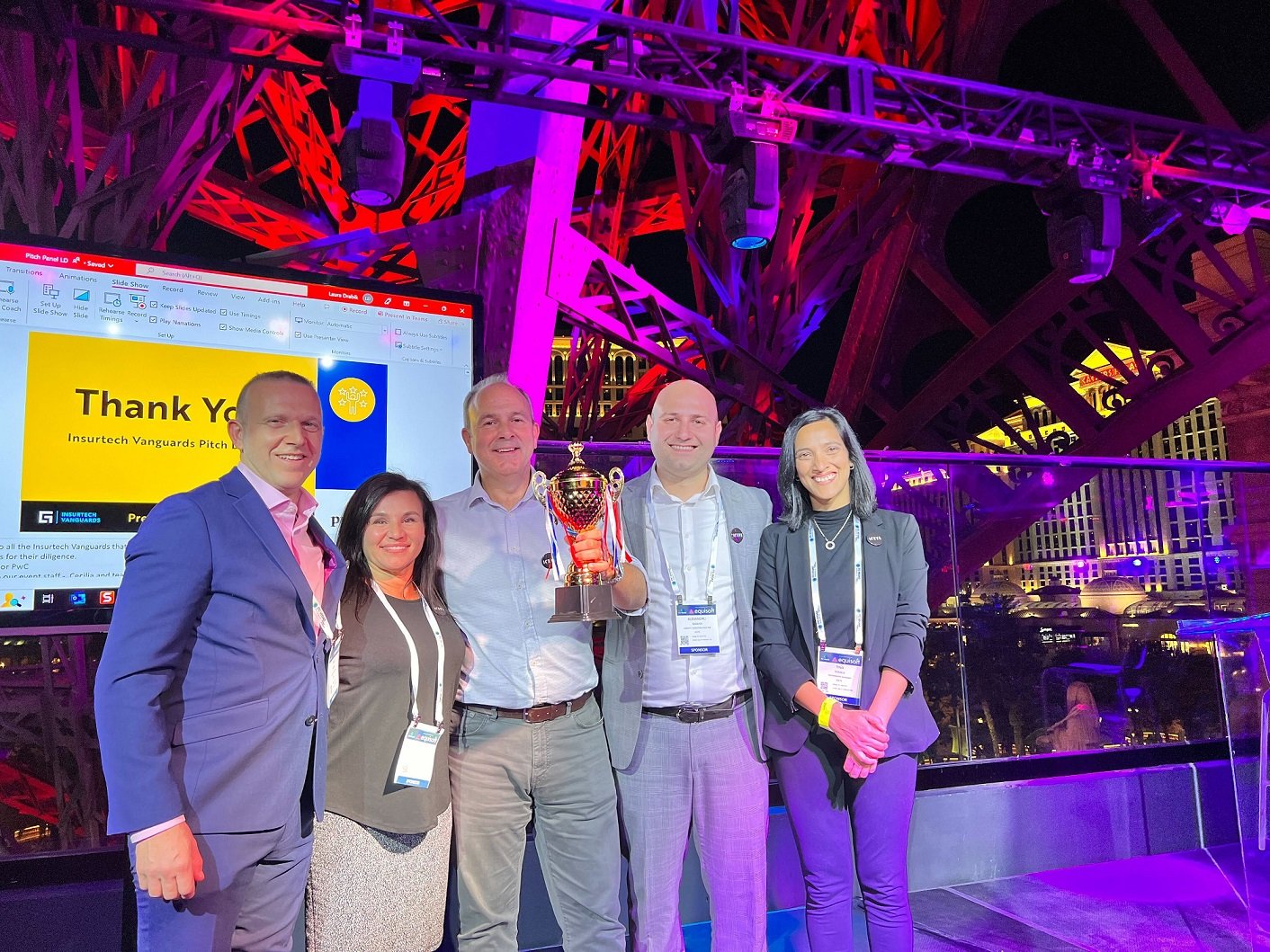 The happy winners: congrats to the ICEYE Solutions team!