This Is Where Earth Observation Comes In
Geospatial intelligence is critical to help respond to the perils caused by climate change. New Earth observation technologies, especially from space, enable us to monitor our planet so that we can understand and quickly respond to impending disasters.
Earlier in November, world leaders, international organizations, leading scientists and many others gathered at the COP26 UN Climate Change Conference in Glasgow to finalize the Paris Agreement and kick-start a decade of accelerated climate action.
ICEYE hosted a joint virtual session with the UK Space Trade Association at the KTN's Space & Geospatial Virtual Pavilion for COP26. The aim was to demonstrate how Earth observation (EO) data from space can help governments and industry collaborate on carbon emission targets and develop solutions for different sectors and societal challenges.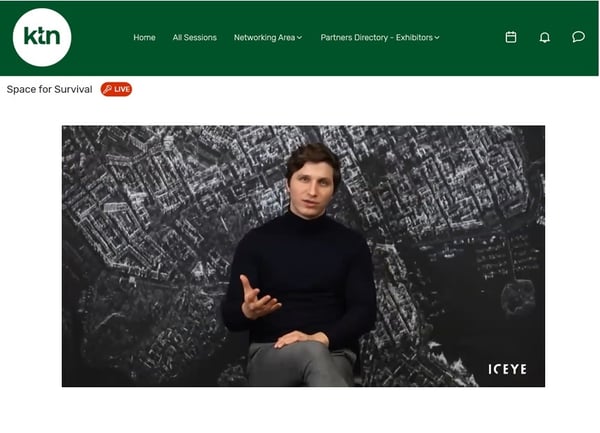 Figure 1. Rafal Modrzewski, CEO and Co-founder of ICEYE, during his keynote speech at the KTN's Space & Geospatial Virtual Pavilion for COP26
Prior to this year's annual UN climate change conference COP26, the US climate envoy John Kerry clearly stated that this "is the last best chance the world has to come together in order to do the things we need to do to avoid the worst consequences of the climate crises." Scientists are emphasizing the goal of reducing the amount of carbon emissions by 45% by 2030 in order to prevent a critical average temperature increase of 1.5 °C.
In addition to significantly reducing future emissions, we also need to learn to live with the consequences of the climate change that has already occurred. Across the globe, governments, organizations, insurers and society are dealing with increasingly frequent natural disasters, like rising tides, forest fires, stronger winds, and floods. The world needs radically new tools to be able to better respond to the perils we all face. And it needs them now.
---
ICEYE is Revolutionizing How We Respond to the Challenges of Climate Change
ICEYE's mission is to work with partners to enable governments and industry to respond to natural catastrophes instantly and help the people who are impacted by them.
To do that, ICEYE designed, built, launched and operates the world's largest constellation of synthetic aperture radar (SAR) satellites. These imaging satellites orbit the globe and are able to capture images of any location within hours after tasking. The technology allows images to be collected through clouds, rain, fog, and smoke, and in darkness.
This opens up access to a completely new level of persistent monitoring and facilitates the frequent observation of endangered areas. Large and small locations around the globe can be covered with a high revisit rate that allows the detection of even the smallest changes on the ground.
"Fundamentally, with persistent monitoring we can capture this precise time-series of the physics that's going on on Earth, whether it is flood or wildfire. From day to day to day we can measure changes down to the millimeter level and that gives us this really beautiful and comprehensive, quantifiable evidence of what the observable Earth is undergoing and how it impacts people."

- Shay Strong, Vice President Analytics at ICEYE
Tracking daily changes and analyzing activity patterns can help us predict what may happen next. The collected data provides quantifiable and verifiable information that empowers decision-making at the most critical moments. This type of predictive intelligence can help protect people, properties, and infrastructure around the world.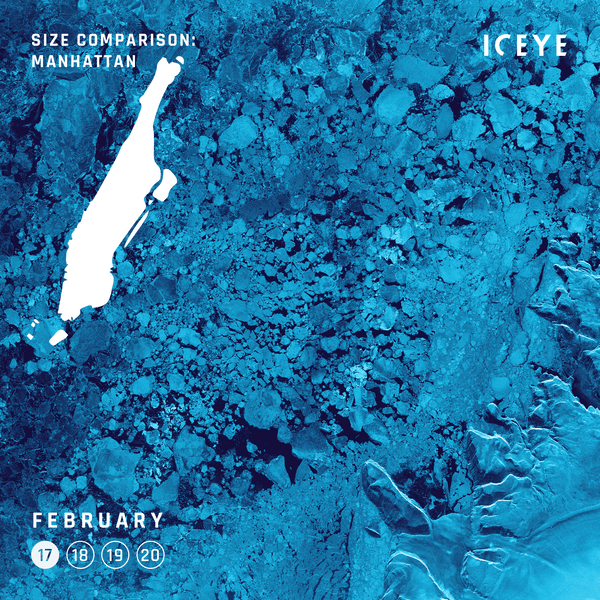 Figure 2. These animated SAR images show floating sea ice in the Nares Strait, captured on four consecutive days in 2021 before sunrise. For size comparison of the observed area: see the size of Manhattan.
---
Countering Ubiquitous Natural Disasters
ICEYE's solutions equip governments, organizations and people charged with responding to environmental and climate challenges with a tool they've always needed but never existed before now. As the climate becomes warmer and warmer, the frequency and risk of severe storms, wildfires and floods is continuously increasing worldwide.
"The difference between the past and the present is that today we have the technology that allows us to monitor and react to these changes."

- Rafal Modrzewski, CEO and Co-founder of ICEYE
That's why ICEYE's focus is on the persistent monitoring of natural disasters. Since 2018, ICEYE has targeted, imaged and provided data for over 400 different flood and storm events, including the major floods caused by Hurricane Dorian in 2019 and Hurricane Ida in 2021, as well as the huge European flood that happened in the summer of 2021.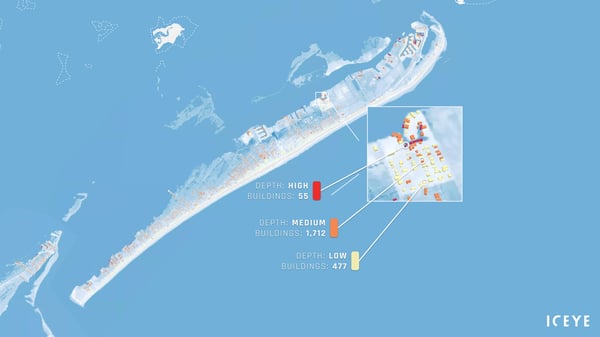 Figure 3. Flood map and building inundation analysis of Grand Isle after Hurricane Ida hit the coast of Louisiana with dangerous storm surges, damaging winds and tornadoes in August 2021.
---
You Can't Improve What You Can't Measure
Earth observation technology can't solve the climate crisis on its own, but it does offer hope. For the first time in history, we are now able to persistently monitor any location on the planet, understand the environment we are living in, and better respond to the consequences we now all face as a result of climate change.
The concrete and urgent goals set at the COP26 summit 2021 require collaboration between many disciplines and many people. It's not just governments that need to act now, it's also industry and consumers. And we need to work together to achieve real change.
The challenges we face are great, and the ability to see and understand what is happening on Earth and reliably measure the consequences is the first step. This is exactly what Earth observation technology brings to the table.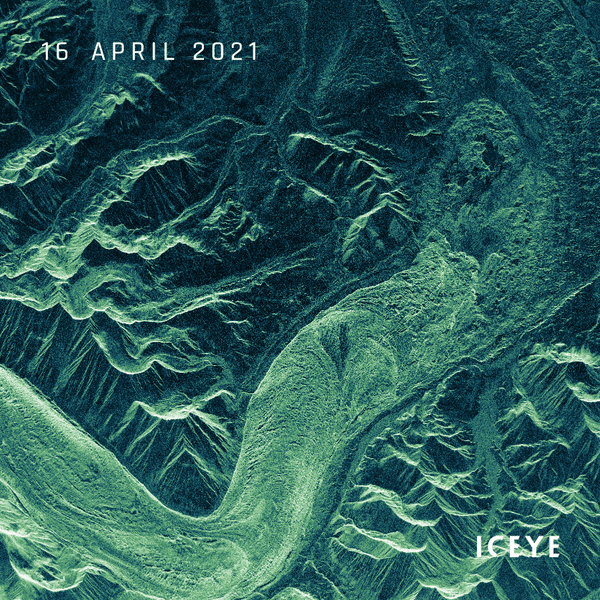 Figure 4. This time-series of ICEYE SAR images shows the rapid movement of the Muldrow Glacier, Alaska, between April 16 and 30, 2021, on a daily basis.
---
From World Monitoring to Climate Resilience - Watch the Session Recording
The session "From World Monitoring to Climate Resilience: Predict, Prevent, Prepare & Precover" at the KTN's event begins with an opening film showcasing ICEYE's unprecedented persistent monitoring capability, which enables a whole new way of looking at our planet and understanding processes and patterns of life.
Watch below as ICEYE's CEO Rafal Modrzewski gives a keynote speech, followed by a panel discussion on the subject of EO data and its benefits for natural hazards, moderated by Daniel Stander, United Nations (UN) Special Advisor and Senior Advisor at ICEYE.
Daniel was joined by renowned expert Shay Strong, VP Analytics at ICEYE, and the insurance industry experts Tuga Alaskary - Advisor at InsuResilience Global Partnership, Matthew Foote - Senior Director Climate & Resilience at Willis Tower Watson, and Neeraj Baruah - Technical Lead in Earth Observation and Spatial Data Science at Vivid Economics.
Watch the full session (35:50) below.