Designing Parametric Insurance Products with ICEYE's Flood Monitoring Technology
How do you bring about innovation in flood insurance with new technology and capabilities, leaving no room for error? How can insurers leverage ICEYE's multi-source flood insights to establish precise parametric triggers in their product design?
These are some of the questions we discussed during our fireside chat with Descartes Underwriting at the Future of Insurance Europe 2021 Reuters conference.
---
Persistent Flood Monitoring to Empower Parametric Offerings
Lisa Wardlaw, ICEYE's Global Head of Insurance Solutions opened the discussion by welcoming Sébastien Piguet, Co-founder & Head of Underwriting at Descartes, and setting the tone for the conversation. "How do we take the revolutionary capabilities of near real-time observation, partner with true innovators, and then challenge the status quo of the industry?" she asked.
In other industries, clients may be more accepting of a margin of error associated with new or prototypical technologies. But this is not the case in insurance, explained Sébastien Piguet, also giving the reason why a technology-focused MGA such as Descartes has partnered with ICEYE to design parametric flood insurance products. "It requires a lot of expertise to design a good insurance product and very good data. If you are unable to detect claims or events it is impossible to design a good parametric product", he added.
---
A Reliable and Consistent Way of Delivering Flood Hazard Data
Unlike indemnity products, parametric insurance is triggered when an event reaches a pre-agreed threshold based upon independent parameters, for example, ground shaking, wind speed, or water depth measurements. In the case of flood risk, this means that there must be almost immediate access to accurate and verifiable third-party data. In this sense, Piguet also highlighted the importance of third-party data providers being independent and providing the highest quality data.
When it comes to parametric offerings, accuracy is everything for policyholders and providers alike, and this is where ICEYE's Flood Monitoring solution is proven to be especially useful.
Video 1. A collection of flood visualizations created by ICEYE.
Supported by a team of experts from the fields of insurance, meteorology, and advanced geospatial analytics, ICEYE bridges the gap between information and actionable data by combining SAR imagery with multiple auxiliary information sources to create fully operationalized flood hazard data.
Crucially, ICEYE owns the world's largest radar imaging satellite constellation that is always on, and thanks to the SAR technology, we empower our clients to see through darkness and clouds, capturing detailed flood insights regardless of severe weather conditions.
---
Confidence and Trust
During disastrous flood events, policyholders must have complete confidence that their coverage will be triggered when flood damage occurs, so they can receive their funds and get back to business as quickly as possible. This also helps to limit the impact of business interruption losses following an event.
"Sometimes [business interruption] has a greater impact on financial losses than the physical impact," explained Piguet. "We are really happy to partner with ICEYE because ICEYE provides very accurate data, and we are able to settle claims very quickly after an event."
This immediacy and immutability of ICEYE flood data are the building blocks upon which Descartes has built its parametric flood insurance products. With the words of Piguet, this has allowed the firm to design products for regions and use cases that were previously underserved by traditional indemnity coverage.
"The key challenge when doing parametric insurance and using innovative technology is that our clients don't want to take any risk, so we need to be innovative but also very reliable. (…) That's why we only work with a few data providers that we trust, because it is super important for us that when there is a claim, our data provider is able to send us good data that the client will trust," he concluded. "We cannot afford any limitations with an insurance product."

You can listen to the full conversation between Lisa Wardlaw and Sébastien Piguet here:

Alternatively, learn more about ICEYE's Flood Monitoring solution or download our latest Flood Briefings here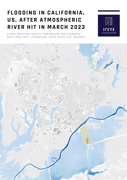 Download our Flood Briefing
Flood Briefing: California, US