ICEYE Partners with New Light Technologies
ICEYE and New Light Technologies (NLT), a renowned leader in the development of satellite-derived analytics and delivery of real-time decision-support systems for emergency management, recently announced a partnership to deliver critical flood hazard data to clients across the federal, state, and local Governments.
---
ICEYE Solutions for a new level of situational awareness
In today's world, it is more important than ever for insurers and government organizations to immediately understand impacts and respond decisively to natural disasters. Owning the world's largest Synthetic-Aperture Radar (SAR) satellite constellation, ICEYE is a global leader in persistent world monitoring, enabling the insurance and public sector to base their decisions on reliable situational awareness.

Unlike a traditional optical imaging satellite, our SAR satellites can see through clouds, rain or smoke and see the ground at night - giving them a distinct advantage to observe natural catastrophes like floods as they occur. Once floods are targeted and the imagery is acquired, ICEYE's Solutions team goes to work to merge the data with other auxiliary data sources and ultimately output a highly accurate, highly granular flood depth and extent analysis.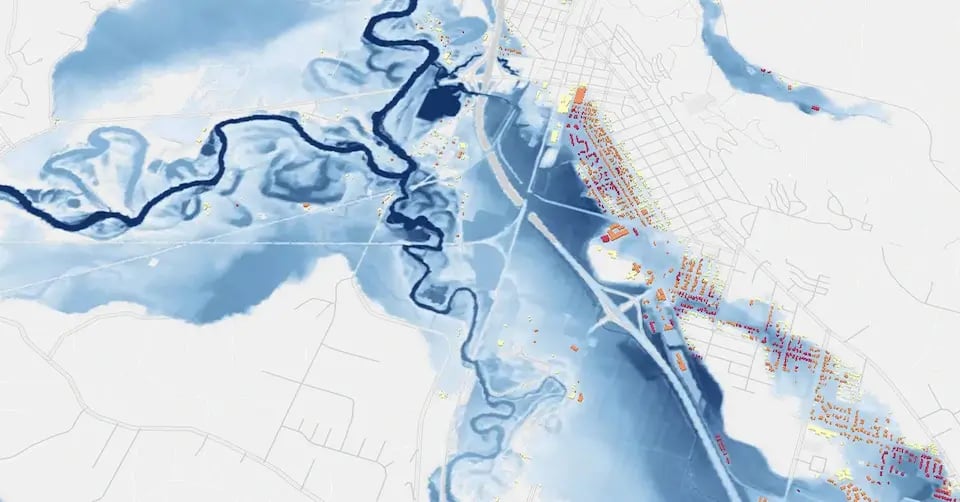 ICEYE Flood Briefing on the flooding in Washington state, USA in January 2022. Download the Briefing here.
---
Partnership with NLT to unlock structure-level flood impact observations
By entering into a partnership with New Light Technologies (NLT), who specializes in the development of scalable AI/ML-based predictive analytics platforms and solutions for Homeland Security, Disaster Management, Economic Development, Climate Change, and other missions, we plan to continue to jointly deliver critical hazard data, including flood extent and depth at the structure-level to mission-oriented agencies across all sectors, that rely on granular, accurate and rapidly delivered data to save lives.

As NLT provides comprehensive consulting, research, digital transformation services, and fit-for-purpose analytics solutions for clients in government, commercial, and non-profit sectors, the goal of this partnership is to provide near real-time situational awareness, decision-support, and mission-critical information to various agencies such as the Federal Emergency Management Agency (FEMA) during and after natural disasters and storms. The data provided by NLT and ICEYE would unlock new access to the true impact of floods in near real-time to make structure-level impact observations available to key stakeholders in the immediate aftermath of a flood.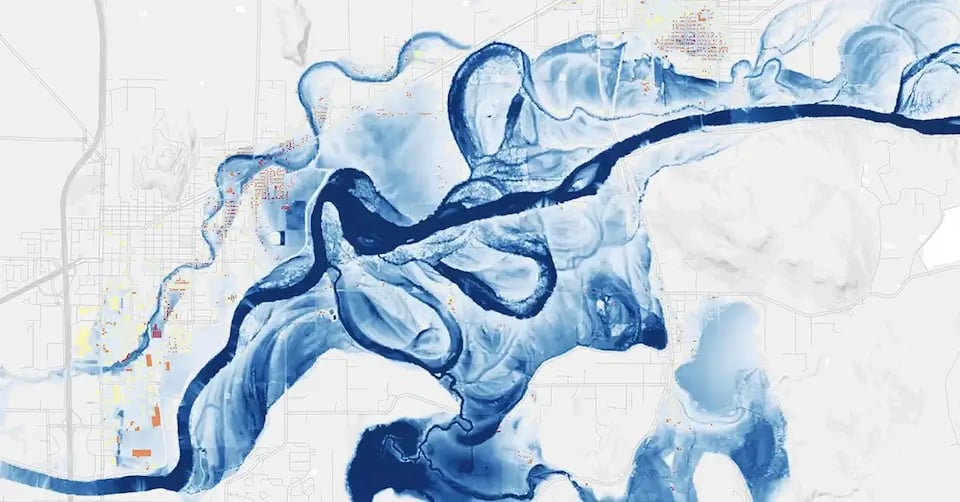 ICEYE Flood Briefing on the flooding along the USA-Canada Border in November 2021. Download the Briefing here.
Delivering critical flood data to FEMA Duri

ng Hurricane Ida

While NLT's partnership with FEMA goes back 15 years, ICEYE's collaboration with NLT began in August 2021 when Hurricane Ida made landfall over Louisiana at Category 4 strength and flooded tens of thousands of buildings in its path. Both organizations worked closely together to ensure FEMA received detailed analytics of the flood extent, depth, and its impact.

"We are excited to build on the recent work we did with NLT and FEMA surrounding Hurricane Ida," says Andy Read, Global Head of Government Solutions at ICEYE. "ICEYE's mission is to help our customers make informed, data-driven decisions to address time-critical challenges. No other company can tell the story of flood impacts as the event is unfolding."

"Increased availability of commercial sources of remotely-sensed satellite data is improving the ability to monitor weather events and their impacts on communities. ICEYE's high-resolution SAR-derived flood information is a key input to our disaster risk models and is revolutionizing the speed and accuracy of the analytics we supply to our customers. This data was proven to be invaluable to FEMA for disaster response during Hurricane Ida," says NLT Program Manager Rob Pitts. According to NLT's Chief Scientist Dr. Ran Goldblatt, high-resolution SAR data and the information ICEYE derives from it provide the foundation for effective and timely intelligence to improve the ability of the disaster management community to effectively respond to and recover from major disasters.

This partnership comes at a time of tremendous growth for ICEYE's Solutions team and its capabilities. In the past year, ICEYE has monitored more than 500 potential flood events globally and the Solutions team has provided detailed analysis for its clients on almost five dozen major flood events. The ICEYE team also recently welcomed Andy Read as Global Head of Government Solutions, who brings more than a decade of experience in natural catastrophe resilience & re/insurance sectors to ICEYE.

To learn more about ICEYE's Flood Monitoring solution, please visit:
https://www.iceye.com/solutions/flood-monitoring

To learn more about New Light Technologies (NLT), please visit:
www.NewLightTechnologies.com