Streamline Claims Management Processes with Improved Data Speed, Quality, and Scale
In the 2020 Intelligent Insurers Claims Survey1, 91% of executives agreed that boosting customers' experience of claims was their primary objective — and over 60% were planning to invest in new technologies to deliver on that objective.
Responsive insurers who step up to support customers during flood events will find their level of emotional and financial care reciprocated by the holy grail of insurance relationships: customer loyalty. Claims management is an opportunity for insurers to shine — a strategic and financial imperative. ICEYE data can be integrated into your processes to help you shine when it matters most.
---
Let's show an example of a recent flood and why this matters
When catastrophic flooding in March 2021 severely impacted Australia's east and southeast coastal regions, the rains lasted several days, extending inland over a vast stretch of the country. In Port Macquarie and Taree, ICEYE's flood analysis2 revealed almost 4,000 flooded properties over a 600 km2 area to give a sense of scale. In Sydney, ICEYE's flood analysis3 indicated over 1,800 flooded properties with a 2 meter average flood depth. Traditionally, it can take months before homeowners in affected regions get relief in these situations. Using current processes and technology, getting an accurate picture of flooding events takes precious time, which impacts how quickly insurers can respond to their customers. This is where ICEYE data can help.
---
What makes a successful claims process?
Claims excellence comes down to exceeding policyholder expectations, measured by the claims excellence dimensions.
Table 1: Claims Excellence Dimensions

Dimension

Description

Examples

Contact Speed

How quickly could I contact the insurance company?

Did I have to spend a long time on the phone to the claims line?

Contact Ease

How easy was it to contact the insurance company?

What were the contact options provided?

How easy was it to find those details?

Was customer service aware of my situation?

Claim Execution

How quickly was the claim resolved?

How soon was the claims adjustment made?

How long after did I receive the agreed financial support?

How quickly are disputes resolved?

Return to Normality

How quickly was I able to get back to my pre-flood routine?

How quickly was I able to get back into my house?

How quickly were the repairs done and furnishings restored?
---
Bring together Speed, Quality, and Scale in your Data to achieve claims excellence
When we look at our claims excellence dimensions, how an insurer performs can be summarized in a customer Claims Excellence Index (CEI): a higher overall CEI increases customer trust and, therefore, customer loyalty.

Achieving this requires the right data: a high-quality, fast delivery solution (with rapid refreshment) that scales geographically — as shown in Figure 1.

The mix of Data Speed, Data Quality, and Data Scale ensures you stay focused strategically on the "Claims Excellence Index sweet spot" and can strengthen your position in the market; it ensures you stay focused strategically on the CEI sweet spot and can strengthen your position in the market.
Figure 1: How to use data to drive higher CEI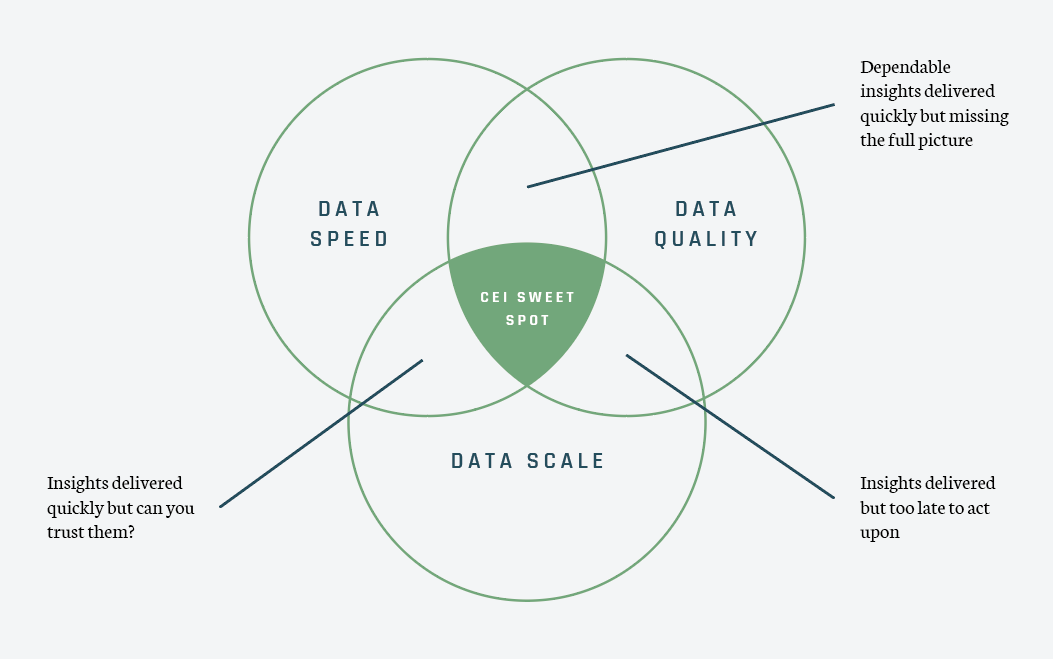 ---
How the right data helps:

ICEYE data can help you get access to global accurate flooding data in near real-time.

Find an example of how we capture flooding here.

---
Download your copy of The New Claims Landscape: Save Money + Enhance Customer Loyalty.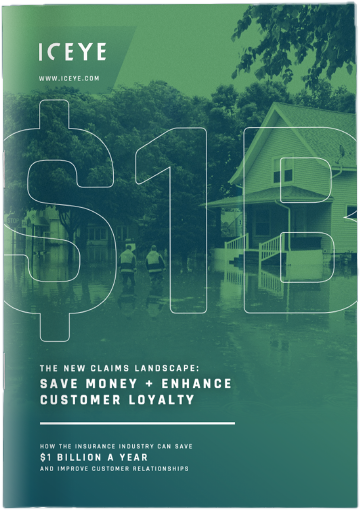 Discover how the insurance industry can save $1 billion a year and improve customer relationships with the right data.
Sources:
Intelligent Insurer Claims Survey 2021
ICEYE Australia Flood Briefing: Flooding in New South Wales, Australia: Part1; March 22, 2021
ICEYE Australia Flood Briefing: Flooding in New South Wales, Australia: Part2; March 24, 2021