Software Engineers Give Insights to Their Work at ICEYE

A creative and passionate Software Engineer, continuously pushing the boundaries of software technologies in the New Space industry.
We are eager to welcome software engineering talents to join our ever-growing team. To give you more perspectives on the company, we talked with some of our software engineers about professional challenges, relocation, and their experiences in their roles.
As a rapidly growing New Space company, we continuously search for new talents to come onboard and contribute to the ICEYE Mission. With the constantly increasing number of SAR satellites forming our constellation, we need more people to join our various teams. At this moment, we especially look for committed software engineers with eagerness to face new professional challenges and make the impossible possible while achieving great results in the technology fields.
To give you more information about our software activities, we interviewed four software engineers from different teams who either have been working at ICEYE for a while or have recently joined.
In this blog post, you will read about their motivation and reasons to join ICEYE, the career development opportunities they see, the experience of moving to Finland with family, and the most exciting things that drive them to continuously deliver great results and push for innovations. We do hope that these insights will inspire and motivate you to apply for our open positions!
---
Joining a New Space Satellite Company
Meet Ishwor Khadka who works as a DevOps Engineer in the DevOps & Infrastructure team. This team is working closely with the software developers, helping them to deliver their products as smoothly as possible while improving the operational aspects of the application development lifecycle. Ishwor's main responsibilities are to implement and maintain product deployments, to take part in improving system architecture, orchestrating and securing CI/CD pipelines, and to ensure reliable operation of any deployed solution. Ishwor joined the ICEYE team in October 2020. We asked him:
Why Did You Decide to Join ICEYE?
"One of the main reasons why I applied for ICEYE was that the offered position was the desired job I had been looking for - DevOps in aerospace! I lived in a beautiful mountainous country called Nepal before I moved to Helsinki, Finland, for my studies. After that, I was mostly working as a web and software developer. Some time ago, I recognized that I wanted to steer my career towards the DevOps path. And then I saw the ICEYE position!"
"The other reason why I really wanted to become a part of this company is that ICEYE is using a wide range of technologies, many of them are cloud-based. I was always interested in exploring and learning new software and technologies, and I thought I'd be able to do it at ICEYE."
"Last but not least, satellites are cool! I was, and I still am, very intrigued by ICEYE's approach and technical leadership in building and operating a constellation of microsatellites."
"I think that ICEYE is one of the most exciting companies in Finland nowadays, and I am happy that I became a part of it. Working in the DevOps & Infrastructure team is a great professional challenge and gives me the opportunity to learn and practice new things in my field every day."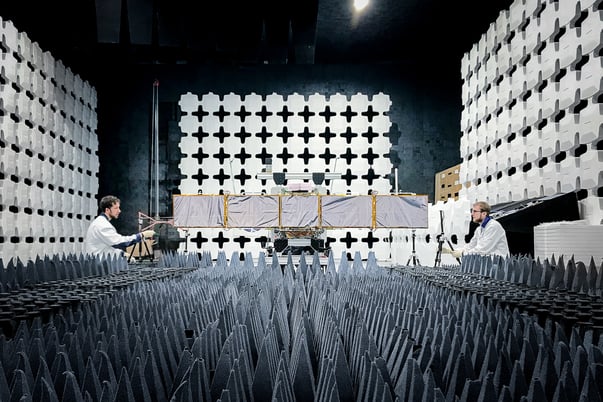 "ICEYE experts testing an ICEYE SAR satellite in an anechoic chamber."

---
Career Challenges, Teamwork, and Diverse Environment at ICEYE
Meet Tapolina Jha, a Software Engineer from the Mission Control Team, Ground Software. Together with her team, Tapolina is responsible for the automatization and improvement of the workflow from data request to acquisition, to the downlink. As a part of the team, Tapolina analyzes potential problems and implements solutions of high-quality.
"I have always dreamt of working in the space industry, like many others. I came from India to do my Master's in Space Science and Technology at Aalto University, Finland. Working for ICEYE joined up the dots of my dream chasing phase and gave me the opportunity to live my dream!" says Tapolina Jha.
During our chat, we asked Tapolina:
In Your Opinion, Why Is ICEYE a Good Place for a Software Engineer to Work at?
"If you ask me about my perspective on what makes the company an exciting and interesting place to work, I can give you countless reasons why people should join and stay at ICEYE!"
"I want to begin by highlighting that ICEYE is a top-notch space company, arguably one of the main New Space leaders in the World! Working here means that you get to solve very challenging problems. Especially speaking about software engineering, we work on intensive and meaningful projects, which not only encourage us to constantly develop our skills, but they also bring results to the company. We can see the clear connection between our efforts and technology advancement, revenue, and the company's growth."
"Having such work and a constant incentive to enrich our knowledge, we get plenty of career opportunities, so everyone here is able to find a challenge they are looking for. The best part is, that even if some of these opportunities are hard to undertake, there is always a team of very supportive and knowledgeable mates, who help each other whenever needed. Teamwork is highly valued at ICEYE, and I very much enjoy this."
"Something that is really unique at ICEYE is its cultural diversity, which we are very proud of. We have employees from more than 40 different countries, who speak 30 different languages! Working in such a multicultural atmosphere is an awesome experience!"
"This diversity is something that I personally love about the company because you get to know so many different cultures without traveling. I had no idea that people who come from other parts of the world and have various backgrounds could be so much fun to work with! This really makes me happy and I know that new joiners will be always warmly welcomed here."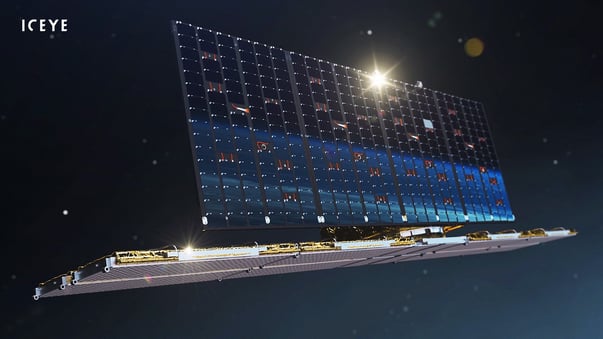 "An artist's depiction of an ICEYE SAR microsatellite."

---
Relocation To Finland To Work for ICEYE
Meet Tatiana Smirnova, a Quality Assurance (QA) Engineer working in the Ground Software division. Tatiana is an expert with extensive experience in the field of information technology. At ICEYE, her main responsibilities include general quality assurance activities for the ground segment software products and process enhancements.
"I enjoy working at ICEYE as it's an international innovative cutting-edge company. It's quite a challenging and inspiring experience that I am excited about!" says Tatiana Smirnova.
Tatiana joined ICEYE a few months ago and relocated recently to Finland with her family. We asked her about this experience:
How Did the Relocation Go and What Is Your Experience of Living Here in Helsinki, so Far?

"I joined ICEYE in July, working remotely from Russia, and then I moved to Finland in September. The People & Culture team supported me greatly during the whole relocation process. They sent me a detailed guide with a step-by-step description of what needs to be considered and done, starting with a document checklist and ending with some common things such as apartment renting tips."
"ICEYE runs a 'Relocation Buddy' program which is a nice way to get in contact with ICEYE co-workers from the first day. ICEYE employees volunteer as 'relocation buddies' for new joiners and accompany them with their knowledge, advice, tips, and tricks, during relocation."
"Everyone I met at ICEYE was so helpful, responsive, friendly, and patient, many thanks for that! This is a great way to start a new job and feel that you are valued and welcomed."
"As for living in Helsinki, I guess I am still in the honeymoon stage in my adaptation process. I always wanted to move to Finland, so I learned a lot in advance. I've been experiencing all the things I expected so far, such as a clean and safe environment, well-planned public spaces, and benevolent people, and I love being here. I also like living so close to nature, always delighted to breathe the fresh air and see a hare or roe deer while walking."
"Additionally, I am very glad that schools in Helsinki do not create too much pressure for kids and let them be kids. Sometimes it's very hard to relocate to a new country with your family, especially when you have children, but I am happy that our experience was more or less smooth. Besides a great education system and living so close to nature, there are plenty of other things in Finland which altogether create this feeling of high quality of life, which I am very much enjoying."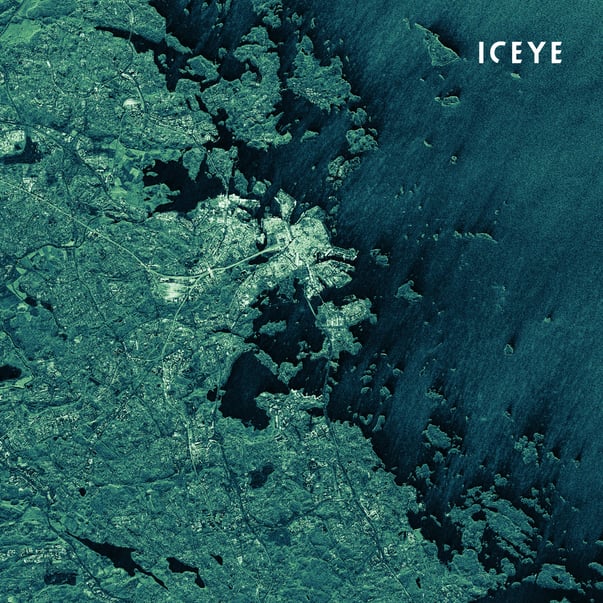 "ICEYE SAR satellite image of Helsinki, Finland"

---
Active Support for Your Career and Flexibility
Meet Antti Tarvainen, Principal Software Engineer. Antti joined ICEYE at the beginning of 2019, after working in the software and consultancy fields for more than 20 years. He is responsible for improving the ICEYE software architecture by figuring out how the responsibilities for different software components should be divided.
"I became interested in ICEYE since they have this data that nobody else has and also, back in those days, as a startup with real promise and a unique position in the market," says Antti Tarvainen.
During our chat, we discussed the following topic:
Why Do You Think People Should Join Our Software Teams?
"I think that one of the main reasons is that there's a lot of opportunities at ICEYE. If you're interested in New Space, then ICEYE is definitely one of the most exciting companies to join. Working in a company at this stage is something that will teach you a lot, for sure. You can learn something new every day and solve interesting problems that matter."
"If you feel ready and want to take responsibility for some aspect of our operations, then you will be able to take that. At this point, when the company is growing fast, if you are eager to make your own mark, then you will be able to do it here."
"Another important thing to mention is that we will help you to find your place within ICEYE. We've made it possible to move between the teams and find the place that best suits you. We need professionals in every team and more experts who are excited about solving problems in all software engineering aspects."
"ICEYE is also insanely multicultural! We have people from all over the world and I think that's an additional great reason why people should join. It is certainly more culturally diverse than the companies I worked with before. I think the ICEYE culture works well for people with different backgrounds, all genders, cultures, and all experience levels."
---
Become a Software Engineer in the New Space Industry - Join Us!
ICEYE is constantly looking for talented and committed software engineers. They are needed for various positions and projects, such as managing satellite constellation software infrastructure, optimizing performances, creating on-board real-time embedded software in satellites and components for the ground station network, automating the satellite collection capabilities, and for a growing number of internal and external software services, just to name a few.
We are proud of our very diverse and international team and we are looking forward to having You on board!


Check out ICEYE's long list of software engineering open positions!