Hurricane Season 2022: The Power of Near Real-Time Flood Observation Data
"One area where we always struggled was flood,"

explained Deepak Badoni, Co-Founder and President at EigenRisk.

"Particularly with post-event information on floods - we had model partners, but people would ask for observation data. Our partnership with ICEYE has been a whirlwind in terms of the complexity we are dealing with and the speed with which this has come together."

In a recent webinar with EigenRisk, we discussed the synergies of our partnership and what it means for the future of flood insurance and disaster response.

Since the collaboration began in April 2022, ICEYE's flood insights have been added to EigenRisk's catastrophe risk management platform, offering insurance companies the ability to make better decisions on how and where to allocate their resources following major floods, while more accurately assessing the impact of claims on their books of business.

Using its growing constellation of Synthetic Aperture Radar (SAR) satellites, ICEYE is able to track floods wherever they occur in the world, with the ability to see through clouds and darkness.
Data is only powerful when you turn it into insights
"We're not trying to guess what happened, which is what a model is doing," explained Nathan Uhlenbrock, Global Head of Solutions Products at ICEYE. "Based on observation, we look at what actually happened, at very high levels of resolution." For starters, he compared SAR satellites to a giant microwave in space, beaming onto the earth and recording what comes back.
One of the many use cases of leveraging ICEYE's observation data is the ability to insure floods through parametric solutions, in particular, area-based or portfolio-based parametric. Such solutions offer the benefit of immediate payouts based on pre-agreed triggers and can help to close the protection gap in parts of the world where flood risk is underinsured.
"Once you have that flood data, you can determine which of your insured properties were impacted by the flood and know the impact in terms of depth. From there, you can determine what to do about it, whether that's generating a probable loss number or making decisions around resourcing and helping with claims."
The raw data is then converted into actionable flood insights within just 24 hours. And while SAR earth observation data is ICEYE's competitive advantage, the firm's team of data scientists enriches its SAR data using a variety of other sources. "We use ground data from third parties, including river gauges, open-source imagery, hydrological data, building footprints and digital terrain data, which is globally available," said Nate. "All that comes together to produce the output."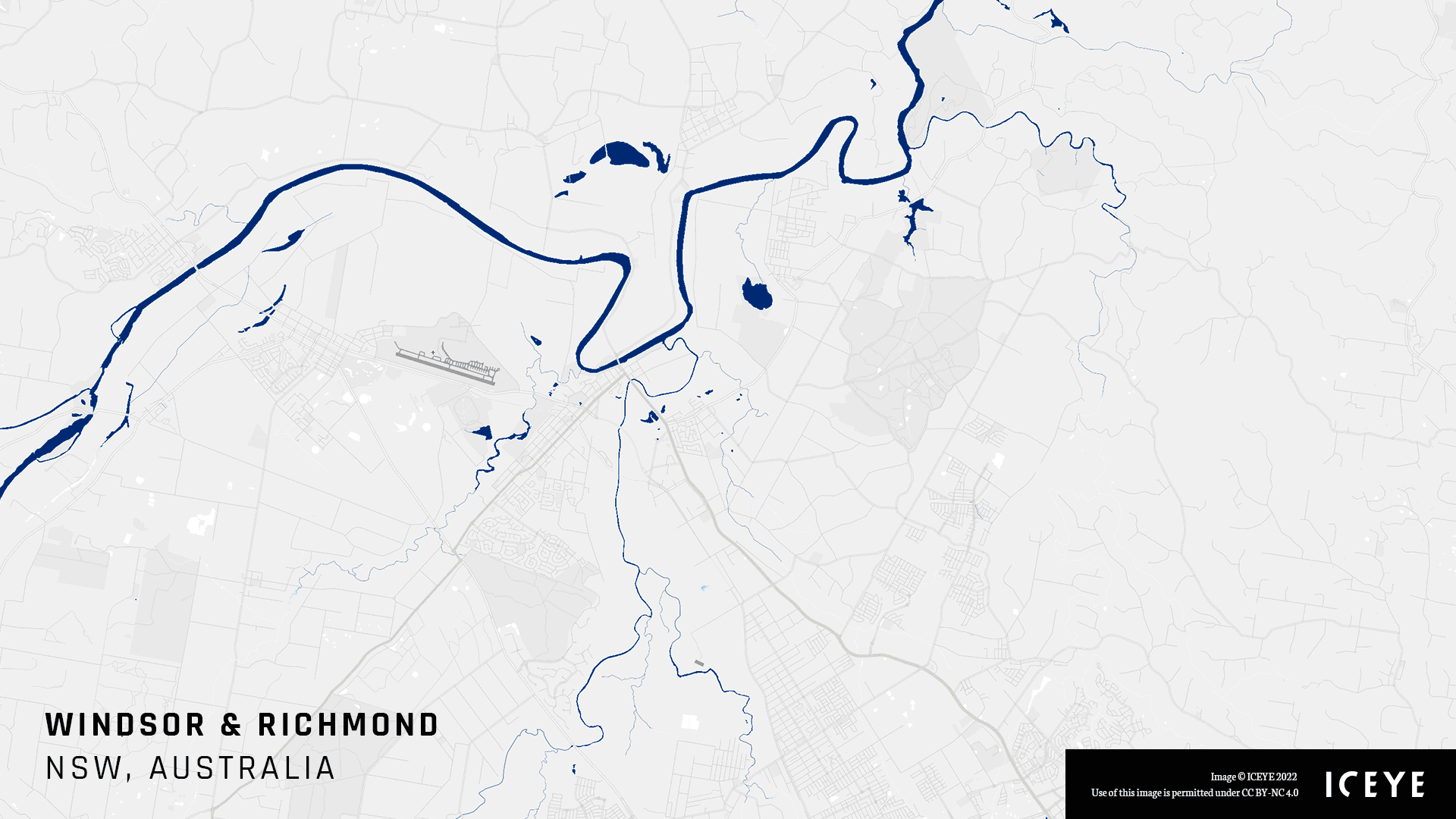 Before and after visuals capturing the flood extent and depth in Richmond and Windsor, Australia, as parts of the Greater Sydney area received about eight months of rain in four days in early 2022.
Observing wetter storms FROM SPACE
During the 2022 Atlantic hurricane season, ICEYE's flood observation data once again proved to be critical.
Nate offered an example of how different data sources came together during the 2021 floods in New Jersey following Hurricane Ida. Ida was a large, slow-moving storm that spanned nine states, with over half of the insured losses occurring as a result of flooding from the remnants of the storm system.

Another example from 2022 is the flooding from Hurricane Ian in Florida in September, where ICEYE delivered key insights on flood extent and depth within 24-48 hours of the flood peak.
As hurricanes get wetter because of climate change, the ability to pinpoint the damage caused by flooding as they move inland (and to distinguish flood damage from damage caused by wind) will become increasingly important. Such insights provide insurers and emergency management organizations with the ability to size flood losses within one to two days, compared to three to four weeks, which is typically the turnaround for major events when using models and feedback from loss adjusters out in the field.
A collection of flood visualizations created by ICEYE.
Limit your Exposure to Flood Risk
Earth observation insights have many potential uses, but for insurers to extract the most value from the hazard data they must also ensure the data quality of their property portfolios.
In the past, issues with data quality would often be exposed in the aftermath of a flood event - when it was too late and the horse had bolted. The ability to syndicate geocoding via a platform is an extremely valuable development, explained Badoni.
Most insurers collect data at a rooftop geocode level, but there are efforts to make this more granular, using polygon building footprints, noted Nate. This approach can help insurers visualise the impact of floodwater depth at different locations on a particular building, in essence allowing firms to loss assess individual properties virtually.
"We see some industry players moving from standard rooftop (at best) to polygon-based footprints - where there are multiple sampling points," he said. "This is the most accurate way to mimic what an adjuster would see [in real life]. The really savvy players in the industry are going to start moving in that direction."
By overlaying ICEYE's flood observation insights with integrated vulnerability and financial models, carriers and other stakeholders can gain the most accurate picture of how they are exposed to a flood event.
other perils and future applications
ICEYE has only begun to scratch the surface in terms of the use cases for its SAR observation data and is getting ready to roll out insights for other hazards, such as wildfire. There is also potential for risk mitigation based on subsidence monitoring to assess rates of deforestation remotely and even track oil slicks on water. From mining and the military to governments, ICEYE's unique observation data is already proving useful for various applications.
"The technology is great for finding really small changes in elevation of time, allowing you to monitor the thermal expansion of infrastructure in order to carry out pre-damage detection and prevention," as Nate referred to the near future.
Learn more about ICEYE's Flood Monitoring solution or download our latest Flood Briefings here.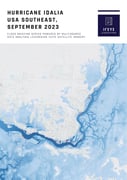 Download our Flood Briefing
Flooding from Hurricane Idalia in Southeast US