In the Event of Humanitarian Disasters ICEYE Provides High-resolution SAR Satellite Imagery

A dynamic Account Director with a passion for disruptive SAR and a great advocate for ESA and UK programmes. Especially interested in rapid response Earth Observation.
Access to reliable site information is essential in the case of natural or man-made disasters. In some severe conditions, radar satellite images are often the only available source of information on the current situation in an affected area.
Disaster situations have increased over the last years. Main factor is the growing number of extreme weather events, such as heavy rainfalls, storms, and wildfires based on climate change. According to UNDRR (UN Office for Disaster Risk Reduction), these disasters force millions of people to leave their homes instantly each years, sometimes for a long period of time.
For organizing emergency relief, fast and unbureaucratic help is needed. For this, the International Charter "Space and Major Disasters", called "the Charter", was founded. The Charter coordinates and provides satellite based geospatial information to authorities in areas affected by a humanitarian disaster.
In 2019, ICEYE became an approved Charter data contributor through a procedure managed by the European Space Agency (ESA).
ICEYE joined the Charter to actively support disaster response worldwide by providing high-resolution synthetic-aperture radar (SAR) satellite data free-of-charge.
The SAR technology has the tremendous advantage to be able to acquire images of the Earth's surface day and night and during adverse weather conditions, due to the radar's capability to penetrate clouds and rain. This makes SAR images a very reliable data source during and after disaster events.
---
Activation of the International Charter Space and Major Disasters
The Charter supports emergency response all over the world. It coordinates and organizes international resources and expertise to produce geospatial information of the local situation in affected areas. The basis for this is Earth observation data provided from different space agencies, currently including 17 members and data contributors.
The Charter can be activated by national governments, aid agencies, emergency services or the international humanitarian community in cases of earthquakes, oil spills, storms, forest fires, tsunamis, major snowfalls, volcanic eruptions, hurricanes and landslides to name some.
In the case of an activation, a Charter project manager is assigned to manage the project in the most efficient way. In a first step, the Charter organizes the best suited satellite data source for generating required information based on the disaster situation. Data production operators and analysts process the data according to the subject and analyse the situation using additional data sources and verification methods. The data is compiled into value added product maps and reports.
After completion, the Charter project manager ensures the delivery to the onsite user through registered organisations.
The Charter operates 24 hours a day and 7 days a week. This entire information process is free-of-charge for the users.
---
Fast and Reliable Provision of Site Imagery Is Essential in the Event of a Disaster
Many of the major natural disasters with catastrophic damages to human lives and infrastructure are accompanied by bad weather conditions, such as heavy rainfall triggering landslides or smoke in the case of volcano eruptions and bush fires. Some events happen at night.
For organizing emergency response effectively, information of the situation onsite is required frequently over a certain period of time to be aware of the extent of the humanitarian and environmental disaster and to prevent secondary disasters.
A network of weather and daylight independent satellite based sensors is needed to get the required basis information. SAR with its ability to capture images through clouds, rain, fog, smoke and even volcanic aerosols and at day and night, is an indispensable information source of the situation in affected areas during and after major disasters.
ICEYE's constantly growing SAR satellite constellation offers rapid satellite revisits. Combined with a very effective image tasking, data processing and delivery process, high-resolution SAR imagery can be made available to the user within a day. This makes the ICEYE SAR data an important asset to the Charter.
---
ICEYE's Contributions to the Charter
ICEYE supported the Charter with providing SAR satellite imagery in two disaster situations this year.

ICEYE received the first request for SAR satellite imagery from the Charter during the forest fire season in Guatemala. The National Center for Risk and Disaster Management (CENAD) had activated the Charter on behalf of the National Coordinating Agency for Disaster Reduction (CONRED) in Guatemala on 30th of April 2020. This project was managed by the Ministry of Regional Development.
The forest fire season in Guatemala started in December 2019. According to the report from CONRED on 29th of April, fires had already destroyed 2,754 hectares of forest in Guatemala since the beginning of the season. By 30th of April, 1,157 fires were counted in Guatemala. The most affected areas were the departments of Jalapa and Petén.

The Charter requested SAR satellite imagery over two large areas in the department of Petén beginning of May 2020. ICEYE delivered high-resolution SAR Strip imagery over the area of the Laguna Del Tigre National Park which is located in the northwest of the Petén (Figure 1), and over the area of Cruce Dos Aguadas in the central north (Figure 2).

This SAR data was used to identify the locations of fire lines which are essential to know for damage assessment and organizing of field operations, and to evaluate identified damage caused to the forest.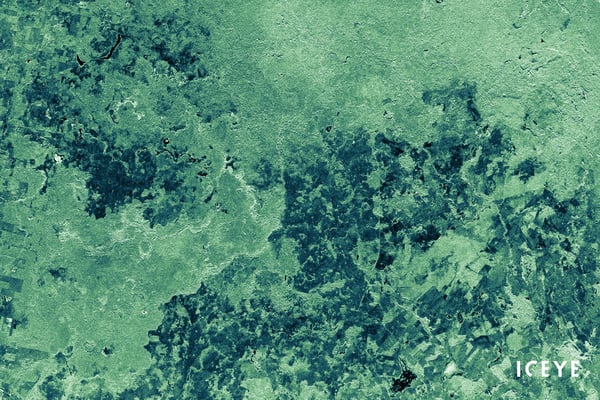 Figure 1. ICEYE SAR satellite Strip image of Laguna Del Tigre National Park, Petén, Guatemala, acquired on 1st of May 2020.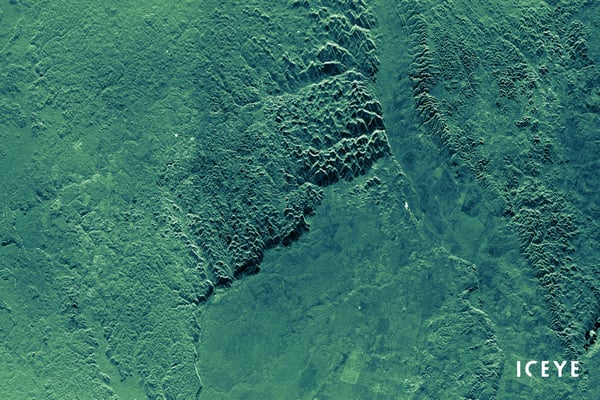 Figure 2. ICEYE SAR satellite Strip image of Cruce Dos Aguadas, Petén, Guatemala, acquired on 2nd of May 2020
The Charter's second ICEYE SAR imagery request was shared in response to the heavy rainfall events in Somalia in April 2020. Rain along the Shabelle and Juba Rivers has caused a sharp increase of their water levels, resulting in severe inundations in the Hiraan and Gedo Regions. One of the most affected areas was Belet Weyne in the Hiraan Region.

The Charter was activated by UNITAR (United Nations Institute for Training and Research) on behalf of the FAO (Food and Agriculture Organization) of the United Nations on 28th of April 2020 and managed by UNITAR/UNOSAT.

ICEYE delivered a very high-resolution SAR Spotlight image over the area of Belet Weyne Town, Hiraan Region, on 16th of May 2020. The image was used by UNITAR/UNOSAT to create a map of the onsite situation to organize emergency response activities (Figure 3).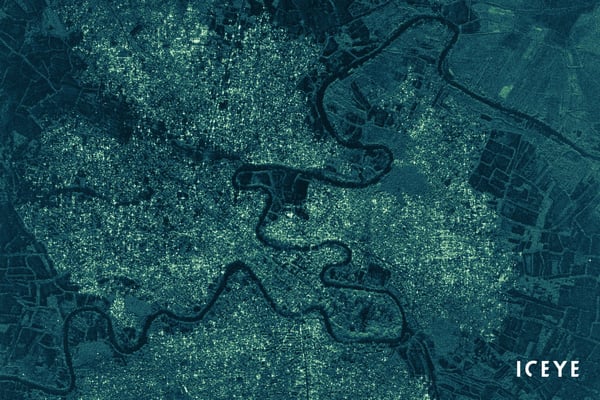 Figure 3. ICEYE SAR satellite Spotlight image of Belet Weyne Town, Hiraan Region, Somalia, acquired on 16th of May 2020.
---
Use SAR Satellite Data in Your Next Research Project
SAR satellite imagery is a valuable, important contribution to scientific research and applications development projects, particularly also in the field of disaster response. ICEYE SAR images can be accessed free-of-charge through ESA's TPM program.