Supporting Remote Fishery Patrols to Effectively Stop IUU Fishing Activities

Runs the team that turns pixels into actionable data for ICEYE customers using advanced remote sensing algorithms and AI.
New Earth observation technologies assist in patrolling distant-water fishing activities by detecting suspect vessels in fisheries in near-real time and thus enabling local authorities to plan efficient interdiction operations.
Illegal, unreported and unregulated (IUU) fishing is a significant global challenge. It causes huge economic losses worldwide every year (between $10 and $23.5 billion annually) and is the main reason for overfishing, causing health issues for humans and unforeseeable consequences for ocean ecosystems. This problem is being constantly addressed by governments, but it remains one of the hardest international threats to tackle, especially in areas where distant-water fishing activities take place.
To enable authorities to take concrete and timely action on illegal fishing activities, reliable sources of constantly updated information have to be available to identify unauthorized fishing vessels at any time. This requires a continuous and comprehensive monitoring service for remote fisheries.
Until now, there has been a lack of tools that could ensure such a complete monitoring system.
With the development of new radar satellite constellations, which can deliver information every couple of hours, it has become possible to detect potentially illegal fishing vessels in near-real time even in adverse weather and darkness. This, combined with vessel tracking information, allows the implementation of effective surveillance and alert services, which provide the location of each suspicious boat to the authorities. Based on this input, fishery patrols can effectively address and stop illegal fishing activities.
---
Monitoring Remote Fisheries: A Basic Challenge for Timely IUU Fishing Detection
The volume of sea traffic is continuously increasing. The number of fishing vessels is also growing and more fishing activities take place at long distances. Both legal and illegal fishers search for good catch far away from their home harbor, either due to overfishing in their national waters or because of the general complexity of distant-water fishing monitoring, which makes it easier for illegal boats to conduct IUU fishing. The high seas, as well as Exclusive Economic Zones (EEZ), are continuously being utilized by both local fishing fleets and visitors from distant countries.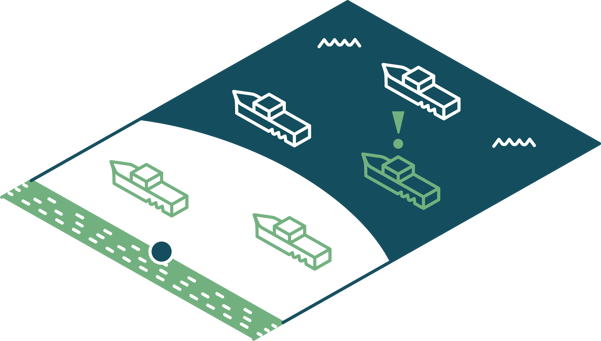 Figure 1. Vessels outside of coastal surveillance areas are challenging to detect and track.
National control systems of sea traffic equipped with coastal radar tracking are very useful for the regular observation of coastlines and territorial waters. Coastal radars help to control sea traffic and detect all vessels within their area of coverage, thus assisting local authorities in coastline protection. These coastal surveillance radar systems, however, can only detect vessels entering the covered area up to a limited distance, and therefore cannot ensure full surveillance of illegal fishing activities taking place in remote areas.
The national EEZ waters usually cover 200 nautical miles off the shore. Patrol vessels and airplanes are in place for surveilling fisheries and detecting vessels operating in these zones. The information they deliver, however, is infrequent and therefore insufficient for the timely detection and stopping of illegal fishing operations. For this purpose, information is required on vast water areas up to multiple times a day.
To deal with illegal fishing activities effectively, patrol vessels need to know where to go and what action to take.
Information about the number of suspicious boats at different locations needs to be updated regularly and delivered reliably to the local authorities. There has been a lack of tools which could monitor remote fisheries frequently and deliver such information on time, providing insights into the overall situation in specific sea areas at any given time. This results in information gaps that hinder coastal states' patrolling services from conducting maritime interdiction operations efficiently.
---
Current Methods for Supporting Maritime Patrolling of Remote Fisheries
Current methods for filling in these information gaps are Automatic Identification System (AIS) and Vessel Monitoring System (VMS) – however, they both come with limitations.
AIS is one of the available methods for identifying and tracking vessels. AIS transponders transmit the location of vessels to coast guards and other ships to avoid collisions. Fishing vessels, however, are not required to carry AIS transponders and can turn them off on purpose, especially when they want to hide their intentions. This is a common issue for sea traffic in every ocean and in almost all territorial waters, making it harder to track ongoing fishing activities.
Another common tracking system that helps in vessel identification is VMS, which is used on fishing vessels. Not only does VMS enable coastal states and Regional Fisheries Management Organizations (RFMOs) to track the locations of fishing vessels, but also to monitor how much marine resources were caught by individual ships operating in their areas of influence.
The challenges are that not all countries require vessels to install VMS, and that VMS and AIS usage are not enforced. Fishing vessels can thus evade coast guards and conduct at-sea transshipments, which is a way to avoid being caught when landing the fish in harbors.
Information from VMS systems is often proprietary to the governments and there is a lack of transparency that would enable citizens, NGOs, or other governments to have fact-based understanding of the situation and to build solutions on top of the data as it is happening with AIS, which is easily accessible.
For these reasons, both AIS and VMS are vulnerable to violation. Although patrol vessels can base their patrolling strategy on data derived from these systems, they are not getting the full picture of suspicious operations happening in their surveillance areas. A complementary data source that enables a more comprehensive view of the situation is required.
---
Reliable Detection of Vessels in Fisheries: Combination of Radar Satellite Data and AIS Information
A constellation of synthetic-aperture radar (SAR) satellites that can provide frequent information on every vessel operating in areas of interest, up to multiple times a day, is an excellent complementary data source.
SAR imaging enables the detection of vessels over large water areas. A constellation of SAR satellites can provide images with a suitable resolution for detecting vessels reliably in near-real time, independently of weather or daylight conditions.
With a frequent stream of SAR satellite data, it is possible to detect vessels, define their activity patterns, and track their movements.
Once vessels have been detected in radar satellite imagery, the information can be combined with vessel tracking data from AIS and analyzed. The advanced analysis allows the identification of collaborative vessels and dark boats which could have hidden their locations intentionally. Information about these dark vessels is key as it points to potentially criminal fishing activity.
When authorities have information on the number and location of dark vessels fairly quickly, they can react to potentially illegal fishing activities in time since the suspicious vessels are still within their reach.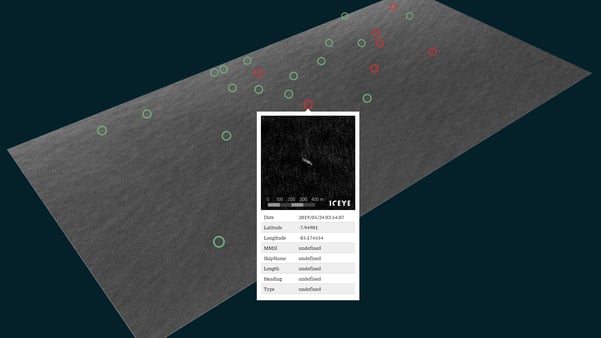 Figure 2. Combination of ICEYE SAR satellite data and AIS information revealing the locations of several authorized fishing vessels (green), and some dark vessels (red) in the Pacific Ocean.
The critical situation in the Pacific Ocean can be considered. It is estimated that every year between 3.7 and 7.2 million tons of illegally caught fish in the Pacific Ocean are entering illegal international markets, robbing Pacific economies of billions of dollars in income. One of the ways to address the burning issues of IUU fishing in the Pacific Ocean is to provide enough support for the route planning of patrol boats.
Figure 2 shows vessels outside the Peru EEZ, in the Pacific Ocean, which were detected in a radar image taken with an ICEYE SAR satellite. By combining this result with AIS information, collaborative (green) and dark (red) vessels were identified. Delivering such reports on the number and location of suspicious vessels (including transshipments spotted at sea) in different fisheries in near-real time helps authorities to react quickly and send their fleet to the right place to effectively deal with IUU fishing operations.
This approach assists authorities in gaining a better picture of the real extent of illegal fishing in their national waters and provides an overview of typical activity patterns of suspicious fishing activities. This allows authorities to organize patrolling in the most effective way and send patrol vessels to the most vulnerable areas.
---
Utilize ICEYE SAR Satellite Data Already Today to Support Your IUU Fishing Patrolling
Maritime authorities, organizations, and industries worldwide can achieve advanced sea traffic monitoring with ICEYE SAR satellite data. Using ICEYE data, you get timely updates on current activities at sea and become aware of the location of potentially illegal fishing vessels. No specific infrastructure is required, and data is delivered regularly and reliably, regardless of daylight and weather conditions.
Read more by downloading
(PDF)