DISASTER RESPONSE FOR FLOODS
Stay on top of growing customer expectations and respond rapidly to major floods with ICEYE's globally available, high-resolution datasets.



GET YOUR EBOOK:

Rapid DISASTER response in the era of climate change
Effective disaster response means timely communication and efficient coordination of resources
Tap into the power of Earth Observation insights provided by the world's largest SAR satellite constellation. By knowing how a flood event has unfolded in reality and which areas have been most affected, your response can be immediate, targeted, and highly successful.
PROACTIVELY COMMUNICATE WITH YOUR CUSTOMERS
By using ICEYE's rapid situational awareness, you can streamline your insurance customer experience and proactively communicate with your policyholders before, during, and after a flood occurs. Our high-resolution observation data allows you to holistically improve your customer interaction model and provide a quick and agile customer experience.
ENABLE SMARTER RESOURCE ALLOCATION
With data-driven resourcing, you can reduce peak resource needs during a major flood event, as well as limit the number of touchpoints from claims adjusters and optimize third-party resources after a disaster. This results in an overall decrease in loss and adjustment costs for your business.
SPEED UP YOUR CLAIMS PROCESS AND EARLY ASSESSMENT
Improve customer satisfaction and prevent claims inflation with fast payouts, helping policyholders get back on their feet as quickly as possible. ICEYE clients are able to validate and process a high proportion of property damage claims remotely, even before loss notifications are received.
Get the eBook
Rapid disaster response in the era of climate change
Leverage our AI-powered multi-source analysis
Our flood monitoring solution combines ICEYE's Synthetic Aperture Radar (SAR) satellite imagery with an abundance of third-party data, algorithms and machine learning, supported by a team of experts from the fields of meteorology and advanced geospatial analytics. Depending on the individual needs of each customer organization, we deliver actionable outputs for the unique needs of Actuarial Departments, Reinsurance Departments, Chief Risk Officers, and more.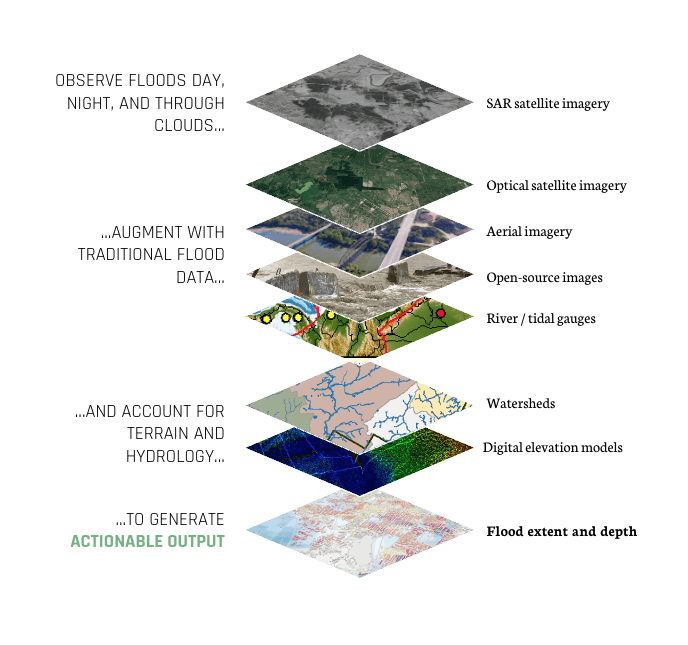 Flood monitoring
Immediately understand the impacts of floods and base your decisions on reliable, near real-time flood extent and depth data, supported by ICEYE's Synthetic Aperture Radar (SAR) satellite technology.
Download our latest flood briefings
Explore our collection of near real-time flood mapping and analysis from across the globe.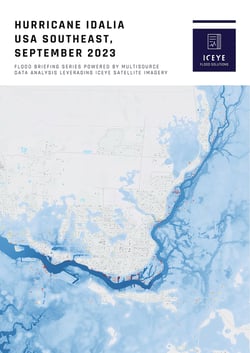 PDF
Flooding from Hurricane Idalia in Southeast US
View ICEYE's flood briefing on the flooding from Hurricane Idalia in Southeast US from September 2023.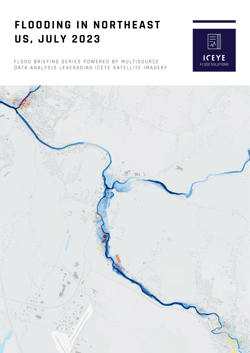 PDF
Flooding in Northeast US
View ICEYE's flood briefing on the flooding in Northeast US from July 2023.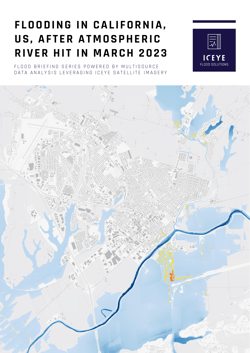 PDF
Flood Briefing: California, US
View ICEYE's flood briefing after atmospheric river hit in California, US
Stay in the know
Our clients have access to near real-time hazard and damage data to accurately and quickly respond to natural disasters, improve their decision-making, and ultimately transform their customer experience.
Contact us
Subscribe to natcat insights