ICEYE-X2 - Continuous Advancements in Small Satellite SAR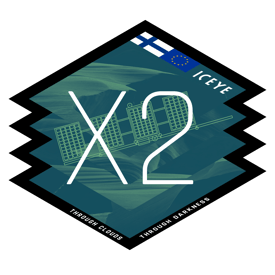 ICEYE's overall mission is to enable better decision making for everyone by providing timely and reliable Earth observation data. To achieve that goal, the company develops its own synthetic-aperture radar (SAR) sensor technologies suitable for satellites under 100kg in weight.
ICEYE-X2 features a range of technology improvements to increase the versatility and quality of the imaging data compared to ICEYE-X1. Improvements relate to items such as component choices, subsystem interfaces, software code, operations procedures, communication links, and optimization of power management. ICEYE-X2 possesses various imaging modes to provide imagery at high resolution and alternatively with a very wide swath to support different types of use cases.
The ICEYE-X2 satellite was delivered into orbit via Spaceflight's SSO-A: SmallSat Express mission aboard a SpaceX Falcon 9 rocket on December 3rd, 2018, from Vandenberg Air Force Base, California.