The World's First SAR Satellite Under 100 kg in Launch Mass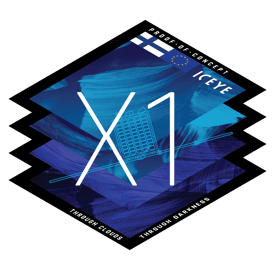 ICEYE's overall mission is to enable better decision making for everyone by providing timely and reliable Earth observation data. To achieve that goal, the company develops its own synthetic-aperture radar (SAR) sensor technologies suitable for satellites under 100kg in weight.
ICEYE-X1 is ICEYE's first proof-of-concept microsatellite mission with a SAR sensor as its payload. It was launched on January 12th, 2018, on ISRO's PSLV-C40 rocket from Satish Dhawan Space Center in India. ICEYE-X1 is also the world's first SAR satellite in this size (under 100kg), enabling radar imaging of the Earth through clouds and even in total darkness.
The ICEYE-X1 satellite is the very first Finnish commercial satellite. The mission has aimed to validate in-orbit performance of ICEYE's technolgy, and to begin pilot operations with first users. Use-cases for the data are, for instance, monitoring sea ice movements or marine oil spills, and prevention of illegal fishing.
ICEYE-X1 Mission concluded
Following the successful completion of the goals of the mission, ICEYE has concluded operations involving the ICEYE-X1 spacecraft.