Both companies will work together to develop new insurance products and services. Tokio Marine's investment forms part of the wider Series D funding round during which ICEYE raised $136M.
Helsinki, FINLAND – February 8, 2022 – ICEYE,a world-leading synthetic aperture radar (SAR) data provider and expert in NatCat solutions, today announced that Tokio Marine Holdings (Tokio Marine) has made a strategic investment in the company as it looks to develop new insurance products and services that utilize satellite data. The announcement is part of ICEYE's Series D funding round which was led by Seraphim Space and raised a total of $136M.
As part of the new alliance between the two companies, ICEYE and Tokio Marine will collaborate on a series of initiatives designed to facilitate the digital transformation of insurance claims capabilities and develop new insurance products and services to address the increasing frequency and severity of natural catastrophes and the growing impact of climate change.
By applying the high-precision imaging capabilities of ICEYE's satellite constellation and its unique Daily Coherent Ground Track Repeat technology, and working with its dedicated insurance team, the two companies will focus on three key initiatives:
To develop advanced insurance claims services for wind-related damage, using satellite images and auxiliary data to estimate the presence and extent of roof damage in the aftermath of a windstorm event.


To develop processes that will accelerate insurance claims payments across all companies within the Tokio Marine Group and support the development of parametric insurance products.



To develop more effective ways of detecting potential disasters through satellite data and supporting response efforts by monitoring changes on the ground.




"We are pleased to announce that Tokio Marine has entered into a strategic collaboration with ICEYE by participating in their Series D financing round,"said Masashi Namatame, Group Chief Digital Officer, Tokio Marine Holdings. "We have been working with ICEYE since 2020 and jointly developed an insurance claims processing solution for floods, that streamlines and enables quicker delivery of claim payments. This collaboration represents both ICEYE and Tokio Marine's strong commitment to take positive action and initiative against additional risks. By combining ICEYE's vertically integrated satellite solutions and Tokio Marine's historical data, we strongly believe that we can develop multiple solutions to address serious natural catastrophe risks and support our customers and society throughout the world in their time of need."
"Our collaboration with Tokio Marine to date has been integral to the advancements that we have made in our insurance-focused solutions," said Rafal Modrzewski, CEO and Co-founder of ICEYE. "Today's announcement marks the next stage in our collaboration as we work to develop new products and services that have the potential to be transformative for insurance. By capitalizing on satellite data, analytical capabilities, artificial intelligence and machine learning, we can enhance responsiveness to catastrophic events, support more effective claims management, ensure speedier payment to those affected, and augment disaster detection capabilities."
ICEYE operates the world's first SAR satellite constellation focused on the insurance industry. By combining data from its spaceborne sensors with multiple auxiliary information sources it creates easily ingestible hazard data which can be delivered to the insurance company in near real-time.
# # # # #
---
About ICEYE
ICEYE delivers unmatched persistent monitoring capabilities for any location on earth. Owning the world's largest synthetic-aperture radar constellation, the company enables objective, data-driven decisions for its customers in sectors such as insurance, natural catastrophe response and recovery, security, maritime monitoring and finance. ICEYE's data can be collected day or night, and even through cloud cover. For more information, please visit: www.iceye.com
Media Contact:
press@iceye.fi
Assets:
Other assets available at https://www.iceye.com/press.
Download images by right-clicking and selecting "save link as":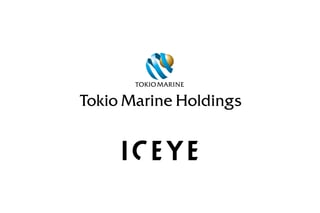 "Tokio Marine Holdings & ICEYE logos."

ICEYE logo.
SUBSCRIBE TO ICEYE PRESS RELEASES
Get the latest news and updates from ICEYE directly to your email. Don't forget to follow us on @iceyefi & on LinkedIn. For press inquiries and further materials please refer to our Press section.