New Regional Director of Nordics is an expert in the arctic and maritime sectors with over 30 years of experience.
Helsinki, FINLAND – November 5, 2020 – Finnish New Space leader ICEYE announced the appointment of Tero Vauraste, MSc, Lt Cdr (Ret) an experienced arctic and maritime professional, as Regional Director of Nordics to lead the business development in the Nordic countries. With this appointment, ICEYE demonstrates its intent to build up a strong presence across the Nordics region.
"Tero has the experience and expertise which helps ICEYE to develop the markets in the Nordic countries with focus on the maritime sector," said Rafal Modrzewski, CEO and co-founder, ICEYE. "We are very happy that Tero has extended his previous advisory role with ICEYE to contribute permanently as Regional Director of Nordics for the best of our current and future customers."
"I'm honored to be joining ICEYE and contributing to our customers with my experience in the arctic, maritime and logistic sectors with unrivalled SAR imaging capabilities," said Tero Vauraste, Regional Director Nordics, "ICEYE is providing timely and reliable Earth Observation imagery and information in areas which struggle with daylight and cloud coverage most of the year. In addition to Finland, Sweden and Denmark, we will help current and future customers in Iceland, Greenland and Norway with our cutting edge services."
Prior to joining ICEYE, Vauraste worked as Senior Advisor to ICEYE, held the position as President of the Arctic and maritime consultancy services Mariadi Oy and worked as Chief Executive Officer at Nurminen Logistics Plc.. He acted as chairman of the Arctic Economic Council and filled the position as President & CEO at Arctia Ltd. As Managing Director of Hertz Finland he worked in its' Nordic Management Team. He also led Finnair's Ground Handling subsidiaries in Finland, Sweden and Norway. He has served as an executive in the Nordic security industry for Securitas Oy. He has Naval and Coast Guard officer service experience. He holds a Master's degree in Risk Crisis and Disaster Management and he is a Global Fellow at the Woodrow Wilson Center Polar Programme.
Expanding the team with experienced professionals, highlights ICEYE's goals to continue to lead the worldwide market in the availability of timely, easy-to-access, SAR satellite data. ICEYE will launch 2 more commercially available satellites at the end of 2020 and is planning to launch 8+ satellites in 2021 to extend the company's SAR satellite constellation, supporting a wide range of governmental and commercial industries.
# # # # #
---
Media Contact:
About ICEYE
ICEYE is building and operating its own commercial constellation of radar imaging satellites, with SAR data available to global customers since 2018. With the company's unique satellite constellation capabilities, ICEYE empowers others to make better decisions in governmental and commercial industries. The company is tackling a tremendous global need for timely and reliable information, with world-first aerospace capabilities and a New Space approach. ICEYE's radar satellite imaging service, designed to deliver very frequent coverage, both day and night, helps clients resolve challenges in sectors such as maritime, disaster management, insurance, and finance. For more information, please visit: www.iceye.com
Assets:
Other assets available at https://www.iceye.com/press.
Download images by right-clicking and selecting "save link as":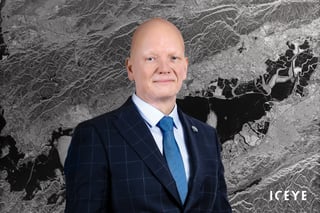 "Tero Vauraste, Regional Director Nordics, ICEYE."

ICEYE logo.
SUBSCRIBE TO ICEYE PRESS RELEASES
Get the latest news and updates from ICEYE directly to your email. Don't forget to follow us on @iceyefi & on LinkedIn. For press inquiries and further materials please refer to our Press section.