New VP brings 28 years of experience in leading satellite product delivery and operations.
Helsinki, FINLAND – February 27, 2019 – ICEYE, an Earth observation company creating the world's largest synthetic-aperture radar (SAR) satellite constellation, today announced the appointment of Leola Moss, a seasoned satellite imaging and aerospace professional, as Vice President, Product Delivery and Operations. The appointment is a clear statement of ICEYE's intent to continue to deliver further value to its customers with space-based radar imaging services.
Prior to joining ICEYE, Leola worked as the director of pipeline operations for Planet Labs and spent three years as a senior program manager for Google. Her extensive background includes positions at Skybox Imaging, GeoEye, Space Imaging, and the United States Air Force.
With Leola's guidance, ICEYE aims to ensure ideal reliability and timeliness for the company's SAR satellite data products, and to exceed customer expectations with the rapidly increasing quantity of commercially accessible imaging capacity.
"ICEYE's SAR satellite constellation is growing at a substantial rate, with five more satellite launches already confirmed for this year," said Leola Moss, ICEYE Vice President, Product Delivery and Operations. "The radar data products we already have available, and some of which we are developing, are a phenomenal upgrade to Earth observation data users. I am excited and feel privileged to join ICEYE in creating completely new value for global satellite data customers."
"Leola Moss will be a tremendous new asset and resource for the ICEYE organization," said Rafal Modrzewski, CEO and co-founder of ICEYE. "Her extensive background in managing satellite imaging operations will help our organization ensure we are delivering what our customers ultimately need - timely and reliable SAR data. We are thrilled to have her join the team."
The timing of the appointment coincides with the appointment of Steve Young, Vice President, Business Development and Sales. Expanding the team with additional senior, experienced aerospace professionals, highlights ICEYE's goals to continue to lead the market in providing timely, easy-to-access, SAR satellite data.
ICEYE launched its second satellite mission, ICEYE-X2, on Dec. 3, 2018. ICEYE plans to continue launching additional SAR satellites to extend the company's SAR satellite constellation, supporting a wide range of governmental and commercial industries, throughout 2019.
# # # # #
---
Media Contact:
About ICEYE
ICEYE empowers others to make better decisions in governmental and commercial industries by providing access to timely and reliable satellite imagery. The company is tackling this crucial lack of actionable information with world-first aerospace capabilities and a New Space approach. ICEYE's radar satellite imaging service, with coverage of selected areas every few hours, both day and night, helps clients resolve challenges in sectors such as maritime, disaster management, insurance, finance, security and intelligence. ICEYE is the first organization in the world to successfully launch synthetic-aperture radar (SAR) satellites with a launch mass under 100 kg. For more information, please visit: www.iceye.com
Assets:
Other assets available at https://www.iceye.com/press.
Download images by right-clicking and selecting "save link as":

ICEYE logo.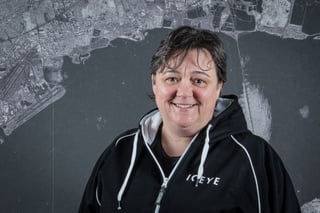 SUBSCRIBE TO ICEYE PRESS RELEASES
Get the latest news and updates from ICEYE directly to your email. Don't forget to follow us on @iceyefi & on LinkedIn. For press inquiries and further materials please refer to our Press section.