Earth observation company continues to lead the way for radar imaging with small SAR satellites.
Helsinki, FINLAND – July 5 – ICEYE, the global leader in small satellite synthetic-aperture radar (SAR) technology, today confirmed that the simultaneous launch of two new ICEYE SAR satellites has been successful. The satellites were launched on a rideshare mission managed by Exolaunch on July 05 2019 at 05:41 UTC. Communications with both SAR satellites have been established, and the procedure for commissioning both units for commercially available radar imaging has begun. With these units, ICEYE continues to grow its in-orbit capacity that is currently available for both government and commercial SAR data users.
"ICEYE's SAR satellites don't take years to develop and launch. We are on a faster time scale to serve data to our partners. I'm very proud of our team," said Rafal Modrzewski, CEO and Co-founder of ICEYE. "Both government and commercial customers have access to a growing SAR satellite capacity from ICEYE. We're well on our way to providing imaging from these two new units, and we look forward to our upcoming launches still scheduled for later this year."
Since launching its previous SAR satellites, ICEYE has continued to develop further improvements in imaging resolution, the amount of available imaging during each orbit, and delivery timelines throughout the delivery chain to customers. The company's SAR satellite imaging is used to serve both government and commercial customers in various segments, including maritime safety, emergency response, insurance, and finance.
In addition to launching two SAR satellites in 2018, ICEYE is on track to launch a total of five SAR units throughout 2019, expanding its commercial capabilities for the delivery of SAR satellite imagery to customers worldwide. The commercial SAR satellite constellation of ICEYE is used to provide a standard data service to customers, in addition to the company serving selected partners with custom capabilities from ICEYE satellites.
# # # # #
---
Media Contact:
About ICEYE
ICEYE is building and operating its own commercial constellation of SAR satellites, with SAR data already available to customers. ICEYE empowers others to make better decisions in governmental and commercial industries by providing access to timely and reliable radar satellite imagery. The company is tackling the current crucial lack of actionable information with world-first aerospace capabilities and a New Space approach. ICEYE's radar satellite imaging service, designed to deliver coverage every few hours, both day and night, helps clients resolve challenges in sectors such as maritime, disaster management, insurance, and finance. For more information, please visit: www.iceye.com.
Assets:
Other assets available at https://www.iceye.com/press.
Download images by right-clicking and selecting "save link as":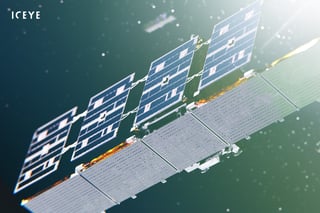 "Two ICEYE SAR Satellites Successfully Launched in July 2019 -- an artist's depiction."

ICEYE logo.
SUBSCRIBE TO ICEYE PRESS RELEASES
Get the latest news and updates from ICEYE directly to your email. Don't forget to follow us on @iceyefi & on LinkedIn. For press inquiries and further materials please refer to our Press section.