Helsinki, FINLAND – October 7, 2019 – ICEYE, the global leader in small satellite synthetic-aperture radar (SAR) technology, announced today that it has signed a Memorandum of Understanding (MoU) and a commercial reseller agreement with ST Engineering Geo-Insights Pte Ltd. to serve the commercial and government markets in South East Asia. As a part of the agreement, the two companies will provide mutual support to develop the regional and global market for rapid revisit, high resolution SAR imagery and SAR based geospatial analytics.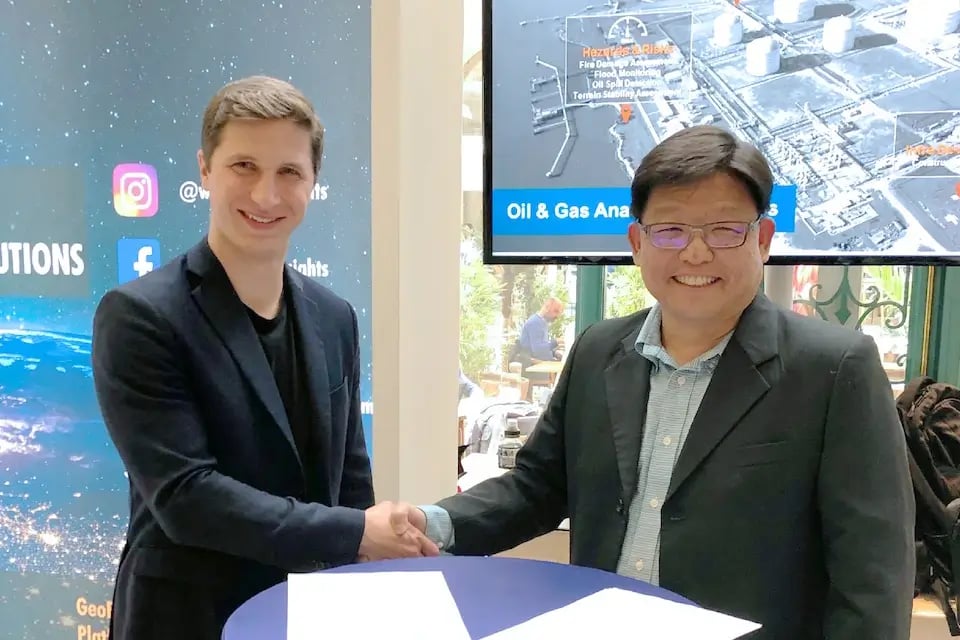 MoU signing between ST Engineering Geo-Insights & ICEYE in September 2019.
ICEYE recently announced its 3 SAR satellite constellation is now available for commercial access, receiving significant attention in the global Earth observation market. ICEYE is creating a growing SAR satellite constellation for frequent and reliable satellite-based information about any location on Earth, regardless of the time of day, and even through cloud cover.
ICEYE is providing commercial data services to both government and industry users. The company is actively increasing the size of its SAR satellite constellation, with two more satellites planned for launch by the end of 2019. ICEYE's small SAR satellites can be manufactured and launched cost-effectively, providing up to 1-meter resolution SAR images.
ST Engineering Geo-Insights Pte Ltd. is a joint venture company formed between DSO National Laboratories and ST Engineering's Electronics sector. Leveraging the strengths of its parent companies, ST Engineering offers geospatial analytics and value-added services based on satellite imagery data to address growing global demands for timely insights through its brand Geo-Insights.
With this partnership, both parties are in a better position to exploit SAR imagery to provide insights for customers in the Energy and Infrastructure/Smart Cities markets.
# # # # #
---
About ICEYE
ICEYE is building and operating its own commercial constellation of SAR satellites, with SAR data already available to customers. ICEYE empowers others to make better decisions in governmental and commercial industries by providing access to timely and reliable radar satellite imagery. The company is tackling the current crucial lack of actionable information with world-first aerospace capabilities and a New Space approach. ICEYE's radar satellite imaging service, designed to deliver coverage every few hours, both day and night, helps clients resolve challenges in sectors such as maritime, disaster management, insurance, and finance. For more information, please visit: www.iceye.com
About ST Engineering
ST Engineering is a global technology, defence and engineering group specialising in the aerospace, electronics, land systems and marine sectors. The Group employs about 22,000 people across offices in Asia, the Americas, Europe and the Middle East, serving customers in the defence, government and commercial segments in more than 100 countries. Its employees bring innovation and technology together to create smart engineering solutions for customers in the defence, government and commercial segments. With more than 500 smart city projects across 70 cities in its track record, the Group continues to help transform cities through its suite of Smart Mobility, Smart Security and Smart Environment solutions. Headquartered in Singapore, ST Engineering reported revenue of S$6.7b in FY2018 and it ranks among the largest companies listed on the Singapore Exchange. It is a component stock of the FTSE Straits Times Index, MSCI Singapore, SGX ESG Transparency Index and SGX ESG Leaders Index. For more information, please visit:
http://www.stengg.com
Media Contact:
Assets:
Other assets available at https://www.iceye.com/press.
Download images by right-clicking and selecting "save link as":
"High-resolution radar imagery featuring Singapore, taken with an ICEYE SAR satellite."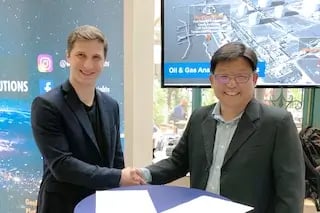 "MoU signing between ST Engineering Geo-Insights & ICEYE in September 2019."

ICEYE logo.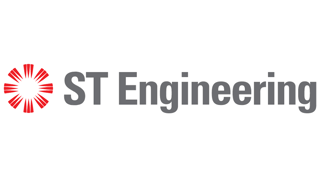 ST Engineering logo.
SUBSCRIBE TO ICEYE PRESS RELEASES
Get the latest news and updates from ICEYE directly to your email. Don't forget to follow us on @iceyefi & on LinkedIn. For press inquiries and further materials please refer to our Press section.