New radar satellite imaging source for the International Disaster Charter helps during and after major disasters. ICEYE's first imagery
for

the Charter was already shared in response to recent flooding in Somalia.

Helsinki, FINLAND – June 25, 2020 – The Finnish New Space company ICEYE is now providing radar imaging data from its commercial synthetic-aperture radar (SAR) satellite constellation to the International Charter Space and Major Disasters for use in monitoring and response activities. ICEYE provides these images at no cost to the Charter's Authorised Users to enable wider and more timely information access for disaster events worldwide.

The International Charter provides Earth observation data for use in monitoring and response activities, acquired by the satellites of its 17 members, contributing partners, and data contributors, to support disaster response worldwide.

ICEYE is building and operating its own satellite constellation of radar imaging satellites and adds SAR data collected from its commercially available satellites to the Charter's portfolio. Since 2019, and through a procedure managed by ESA, the company has become an approved Charter data contributor.

ICEYE's SAR satellite constellation allows for timely mapping, monitoring, and change detection analysis after disasters. Example use cases for Authorised Charter Users include pre- and post-event analysis of infrastructure, assessing property and agricultural damages, mapping the effects of floods, volcanic eruptions and landslide incidents, and measuring oil spill extents.

ICEYE's satellite constellation is growing with additional spacecraft being produced and launched each year. The company offers X-band SAR data in several imaging modes, including very high resolutions in single look complex (SLC) and ground range detected (GRD) image formats.

ICEYE CEO and Co-founder, Rafal Modrzewski: "ICEYE is very excited to contribute to the International Charter Space and Major Disasters. We see the impact that timely access to SAR data can have during and after major disasters, and we are proud to provide assistance through the Charter."

A spokesperson of the CNSA (China National Space Administration), current lead agency of the Charter: "The Charter members are very pleased to welcome ICEYE with its constantly growing constellation of SAR satellites as an approved partner in the Charter. The rapid revisit of ICEYE's commercial SAR satellite constellation contributes tremendously to the Charter's objective to respond most effectively to requests for imagery after disasters."

SAR satellite images can be acquired regardless of weather conditions, both during day and nighttime. This data can be used to provide information of what's happening on land or at sea even during rainfall - regardless of cloud cover and through smoke emissions. This makes SAR a very valuable source of information for disaster management activities supported by the Charter.

# # # # #
---
Media Contact:
About ICEYE
ICEYE is building and operating its own commercial constellation of radar imaging satellites, with SAR data already available to customers. ICEYE empowers others to make better decisions in governmental and commercial industries by providing access to timely and reliable SAR satellite imagery. The company is tackling the current crucial lack of actionable information with world-first aerospace capabilities and a New Space approach. ICEYE's radar satellite imaging service, designed to deliver very frequent coverage, both day and night, helps clients resolve challenges in sectors such as maritime, disaster management, insurance, and finance. For more information, please visit: www.iceye.com
Assets:
Other assets available at https://www.iceye.com/press.
Download images by right-clicking and selecting "save link as":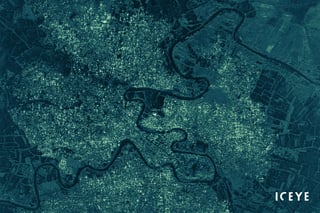 "A colorized preview image of the high resolution ICEYE image of Beletweyne, Somalia, taken on 16 May 2020. This was the first image provided through the Charter for detection of flooded areas following a flash flood disaster in April 2020."

ICEYE logo.
SUBSCRIBE TO ICEYE PRESS RELEASES
Get the latest news and updates from ICEYE directly to your email. Don't forget to follow us on @iceyefi & on LinkedIn. For press inquiries and further materials please refer to our Press section.