Finnish-based SAR microsatellite and Earth observation company extends global footprint to the U.S. to serve local customers.
Helsinki, FINLAND – October 30, 2017 – ICEYE, the leader in synthetic-aperture radar (SAR) technology for microsatellites providing expanded access to reliable and timely earth observation data, today announced its expansion into the United States to better serve local customers. ICEYE's U.S. subsidiary operations will be partly virtual to easily fulfil orders for customers around the nation.
ICEYE's U.S. entity will be focused on delivering Earth Observation data in long-form to its current and prospective clients, many of which are government agencies. The company is also developing data analytics capabilities, which will be provided to ICEYE customers in real-time once its satellite constellation is placed in orbit. The collection and dissection of this data will be key to ICEYE's U.S.-based clients, who can mine the information for a variety of different uses.
"2017 has truly been a monumental year for ICEYE as we've made large strides toward providing greater access to Earth Observation data," said Rafal Modrzewski, CEO of ICEYE Oy. "Officially expanding into the U.S. will not only enable us to better serve our customers, but also establish ICEYE as a truly global player in the SAR data market."
ICEYE's U.S. operations will be led by industry veteran and CEO of U.S. Operations Mike Lyons. Lyons, a co-founder of several successful businesses including Integrated Systems (INTS), SafeView, acquired by L3, and Zilkha Venture Partners, currently serves on the boards of several software companies and created the initial entrepreneurship program in the Stanford University School of Engineering. Utilizing his unique background as an educator, investor and innovator, Lyons will be responsible for supporting ICEYE's growing portfolio of customers in the U.S. and furthering the uptake of commercial satellite imagery through automation and optimization for analytics.
"The U.S. is playing a central role in driving change through the use of Earth Observation data and ICEYE's growth here will give us the foundation we need to really capitalize on this growing market," said Mike Lyons, CEO of U.S. Operations, ICEYE U.S. "The United States represents a unique opportunity for ICEYE to capitalize on a growing demand for data enhanced by deep learning. This expansion represents a landmark for ICEYE as we continue to grow our global footprint outside of Europe."
This news comes on the heels of several capital infusions -- totaling over $14M -- and recent expansion into Warsaw, Poland. ICEYE remains on track to become the first company in the world to launch SAR-enabled microsatellites that provide timely and reliable Earth Observation data, with the first launch scheduled for later this year.
# # # # #
---
Media Contact:
About ICEYE
ICEYE aims to provide democratized access to reliable Earth Observation data through developing efficient SAR sensors and microsatellites, enabling everyone to make better decisions. Through an imaging service available anywhere around the globe, anytime, and with response times measured in just few hours, ICEYE helps clients resolve challenges in segments such as maritime, disaster management and security and intelligence. ICEYE is on track to be the first organization in the world to launch SAR microsatellites and expects to commence its commercial data operations in the first half of 2018. ICEYE has received funding from the European Union's Horizon 2020 research and innovation programme via the SME Instrument. For more information, please visit: www.iceye.com
Assets:
Other assets available at https://www.iceye.com/press .
Download by clicking: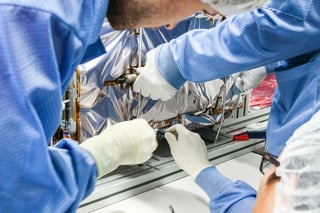 "ICEYE's engineers working on hardware in October 2017."

ICEYE logo.
SUBSCRIBE TO ICEYE PRESS RELEASES
Get the latest news and updates from ICEYE directly to your email. Don't forget to follow us on @iceyefi & on LinkedIn. For press inquiries and further materials please refer to our Press section.