The partnership combines ICEYE's flood monitoring competence with Swiss Re's risk knowledge to provide enhanced insights and tailored solutions for reinsurance and insurance clients worldwide.
Helsinki, FINLAND – March 2, 2021 – ICEYE, the largest commercial synthetic-aperture Radar (SAR) satellite operator and flood monitoring provider, announces its strategic partnership with Swiss Re, one of the world's leading providers of reinsurance and insurance. Building on ICEYE's innovative technology, the partnership will advance flood risk management, assist disaster response and speed up claims payments globally. Swiss Re's clients will benefit from enhanced insights and bespoke solutions.
The partnership announced today will advance Swiss Re's natural catastrophe services by enabling early warning systems and near real-time flood monitoring built on ICEYE's world-leading flood monitoring capabilities with radar satellite imaging. ICEYE's unique radar satellite constellation, high resolution imaging capabilities, and rapid response analysis fuels ICEYE's monitoring solution, which offers global coverage for Swiss Re to track and react faster to floods around the globe.
The strategic partnership will initially focus on floods and it is intended to expand to other perils soon after, such as wildfires, wind and earthquake damages.
Flooding has been consistently one of the most recurrent and costly natural catastrophes our world suffers. Modelling floods has proven particularly challenging in locations with fine-scale changes in elevation, complex terrains and man-made structures as is typical for dense urban centres. The partnership aims to address exactly these areas where most of the flood modelling today falls short and thereby addressing the insurers' pain points.
Swiss Re will gain access to ICEYE's SAR data on flood events on a global basis, high accuracy observation-based flood maps, snapshots of the developments of individual floods, and water depth estimations within 24 hours for these events. Swiss Re will make footprint assessments of the events available on CatNet® Premium – its proprietary geo risk platform – thereby enabling its clients faster loss assessment and payouts.
Pranav Pasricha, Swiss Re's Global Head of P&C Solutions: "We're very pleased to announce the strategic partnership with ICEYE. By combining Swiss Re's risk knowledge with ICEYE's data, we will be able to further expand our capabilities in geo and remote sensing. The partnership will enable us to develop solutions, advance our services to the benefit of our clients and enable faster claims payouts. We see this as an important commitment for a serious natural catastrophe threat and think it could become a real game changer."
Charles Blanchet, VP Solutions, ICEYE: "Swiss Re has challenged ICEYE to create a transformative flood monitoring capability for the insurance industry, and they have helped us create it. We look forward to partnering with Swiss Re to give Swiss Re and their clients a competitive advantage in the market."
# # # # #
---
Media Contact:
About ICEYE
ICEYE empowers commercial and government partners with unmatched persistent monitoring capabilities for any location on Earth. The company helps customers make informed, data-driven decisions to address time-critical challenges in various industries, to ensure infrastructure safety, and to protect the environment. ICEYE's radar satellite imaging service, designed to deliver very frequent coverage, both day and night, helps clients resolve challenges in sectors such as maritime, disaster management, insurance, and finance. For more information, please visit: www.iceye.com
About Swiss Re
The Swiss Re Group is one of the world's leading providers of reinsurance, insurance and other forms of insurance-based risk transfer, working to make the world more resilient. It anticipates and manages risk – from natural catastrophes to climate change, from ageing populations to cyber crime. The aim of the Swiss Re Group is to enable society to thrive and progress, creating new opportunities and solutions for its clients. Headquartered in Zurich, Switzerland, where it was founded in 1863, the Swiss Re Group operates through a network of around 80 offices globally. It is organised into three Business Units, each with a distinct strategy and set of objectives contributing to the Group's overall mission.
Assets:
Other assets available at https://www.iceye.com/press.
Download images by right-clicking and selecting "save link as":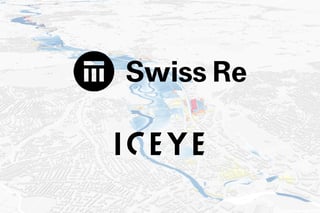 "Swiss Re and ICEYE logos with flood extent analytics visualisation in the background."

ICEYE logo.

Swiss Re logo.
SUBSCRIBE TO ICEYE PRESS RELEASES
Get the latest news and updates from ICEYE directly to your email. Don't forget to follow us on @iceyefi & on LinkedIn. For press inquiries and further materials please refer to our Press section.