Data company to work with U.S. Department of Defense organization.
Espoo, FINLAND – November 20, 2017 – ICEYE, the leader in synthetic-aperture radar (SAR) technology, today announced an agreement with the Defense Innovation Unit Experimental (DIUx) to purchase airborne earth observation (EO) data support services from ICEYE U.S.
"Having just opened our U.S. subsidiary, ICEYE U.S. is on a fast-track in providing services that will help the public sector," said Mike Lyons, CEO of ICEYE U.S. "DIUx is tackling some of the nation's most challenging problems, and we're eager to provide them with data support services that will help in solving those problems."
The U.S. Department of Defense (DoD) launched DIUx in 2015 to build a bridge between commercial technological innovation and national security endeavors. Headquartered in Silicon Valley with offices in Boston, Austin, and the Pentagon, DIUx facilitates DoD's efforts to identify and work with commercial companies, including ICEYE U.S., to help solve national defense problems.
Earlier this year, ICEYE announced its expansion into the U.S. with an entity focused on delivering EO data in long-form to its current and prospective clients. ICEYE U.S. is also developing data analytics capabilities to support more varied industry specific services.
# # # # #
---
Media Contact:
About ICEYE
ICEYE aims to provide democratized access to reliable Earth Observation data through developing efficient SAR sensors and microsatellites, enabling everyone to make better decisions. Through an imaging service available anywhere around the globe, anytime, and with response times measured in just few hours, ICEYE helps clients resolve challenges in segments such as maritime, disaster management and security and intelligence. ICEYE is on track to be the first organization in the world to launch SAR microsatellites and expects to commence its commercial data operations in the first half of 2018. ICEYE has received funding from the European Union's Horizon 2020 research and innovation programme via the SME Instrument. For more information, please visit: www.iceye.com
Assets:
Other assets available at https://www.iceye.com/press .
Download by clicking: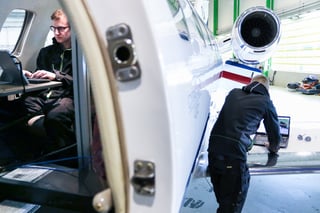 "ICEYE engineers preparing an imaging flight in late 2017."

ICEYE logo.
SUBSCRIBE TO ICEYE PRESS RELEASES
Get the latest news and updates from ICEYE directly to your email. Don't forget to follow us on @iceyefi & on LinkedIn. For press inquiries and further materials please refer to our Press section.