New collaboration will explore how world monitoring data can help the ILS sector improve returns, enhance investor relations and increase communities' climate resilience.
Helsinki, FINLAND – March 15, 2022 – ICEYE, a world-leading SAR data provider and expert in NatCat solutions, and Fermat Capital Management, LLC, (Fermat), one of the largest investment managers in the insurance-linked securities (ILS) sector, have today announced a strategic collaboration in which ICEYE will provide Fermat with near real-time flood hazard data and support R&D into other natural perils.
Under the agreement, ICEYE will provide Fermat with high-resolution flood data for large-scale events. This will include information on flood extent and flood depth at the building level. ICEYE's ability to provide granular hazard and damage data through the world's largest SAR satellite constellation and various auxiliary sources will also support the exploration of new potential use cases, including wildfire-related events.
"ICEYE has established a proposition that is unique in the market. Its SAR satellite constellation and AI capabilities generate critical natural catastrophe intelligence in near real-time," said John Seo, Co-founder and Managing Director at Fermat. "We are excited about the potential of this new relationship. It enables us to provide our investor clients with additional insights. Just as importantly, it creates significant opportunities to broaden the private re/insurance and ILS market's role in enhancing resilience to climate shocks."
"Our alliance with Fermat, a pioneer of insurance-linked securities, marks our entrance into this highly dynamic and expanding marketplace," said Rafal Modrzewski, CEO and Co-founder of ICEYE. "Fermat has been at the center of the ILS sector since its inception, and through our collaboration, we aim to facilitate the continued evolution of this market by enabling a deeper understanding of natural catastrophes."
"By providing ILS fund managers and investors with high-resolution insights, ICEYE is enabling a stepchange in how the capital markets approach high-gradient perils such as flood," said Andy Read, Global Head of Government Solutions at ICEYE. "Alternative capital plays an important role in maintaining the resilience and stability of the re/insurance market in the face of natural disasters and therefore, ultimately, of communities themselves. Understanding the impact of flooding in near-real time is essential to the ongoing evolution of this sector and for developing solutions that will help communities better manage and respond to floods and other climate shocks."
Owning the world's largest SAR satellite constellation, ICEYE provides access to an entirely new level of persistent monitoring for any location on earth: uninterrupted visibility, day and night, in any weather conditions, that is transforming the insurance industry. By combining data from its spaceborne sensors with multiple auxiliary information sources, ICEYE delivers in near real-time easily ingestible hazard and damage data to the entire insurance value chain.
# # # # #
---
About Fermat Capital Management, LLC
Founded in 2001, Fermat Capital Management, LLC seeks alternative fixed income returns by focusing on new asset classes that offer potentially attractive risk premiums. With $8.5 billion in assets under management (as of 30 June 2021), Fermat provides investment management services for clients — including pension funds, sovereign wealth funds, endowments, charitable and philanthropic foundations, insurers, family offices, and private investors — from around the world. The Fermat team has deep expertise in insurance, banking, and capital markets and Fermat has served as an advisor to government bodies and national regulators. Fermat currently manages portfolios in two strategies: insurance-linked securities and trade finance.
About ICEYE
ICEYE delivers unmatched persistent monitoring capabilities for any location on earth. Owning the world's largest synthetic-aperture radar constellation, the company enables objective, data-driven decisions for its customers in sectors such as insurance, natural catastrophe response and recovery, security, maritime monitoring and finance. ICEYE's data can be collected day or night, and even through cloud cover. For more information, please visit: www.iceye.com
Media Contact:
press@iceye.fi
Assets:
Other assets available at https://www.iceye.com/press.
Download images by right-clicking and selecting "save link as":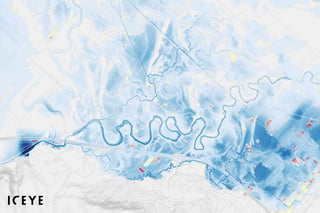 "ICEYE flood visualization."

ICEYE logo.
SUBSCRIBE TO ICEYE PRESS RELEASES
Get the latest news and updates from ICEYE directly to your email. Don't forget to follow us on @iceyefi & on LinkedIn. For press inquiries and further materials please refer to our Press section.