Insurance market strategy and innovation specialist, Lisa Wardlaw, joins ICEYE; Daniel Stander announced as Senior Advisor
Helsinki, FINLAND – October 7, 2021 – ICEYE, the global leader in persistent monitoring with radar satellite imaging and an expert in flood hazard data, has announced today the appointment of Lisa Wardlaw as Global Head of Insurance Solutions. In this new role, Wardlaw will lead ICEYE's efforts to deliver natural catastrophe data solutions to help catalyze the digital transformation of the insurance industry globally.
ICEYE owns and operates the largest synthetic-aperture radar (SAR) constellation in the world and offers solutions focused on the unique needs of government and the insurance sector. By combining data from spaceborne sensors with multiple auxiliary information sources, ICEYE can provide actionable insights about natural hazards in near real time to its customers.
Wardlaw is a highly accomplished strategy and innovation executive with extensive finance, operational and digital experience. Over a 25-year career, she has helped transform and differentiate several insurance businesses. She joins ICEYE from Farmers Insurance, a subsidiary of Zurich Insurance Group, where she was Chief Strategic Financial Officer. Prior to this, Wardlaw was Global Chief Digital Strategy & Transformation Officer for Global Reinsurance at Munich Re.
"This is an incredible time to be joining ICEYE," said Wardlaw. "Our priority is to deliver on ICEYE's mission to make the impossible possible for our insurance customers. We have a huge opportunity; the ability to combine capabilities that never existed before in ways that will help transform the insurance industry. ICEYE is already helping its clients cover and respond to natural catastrophes in new and innovative ways. It's an incredible innovation challenge. With groundbreaking capabilities and a laser focus on the needs of the insurance value chain, we are reimagining traditional norms and business models in ways that are strategically important."
So far in 2021, ICEYE has tracked more than 450 potential flood events globally, imaged over 350 potential flood events, and analysed over 30 flood events which each spanned a total area of at least 20,000 km2. In total, the company has launched 14 SAR satellites since 2018, with the most recent launch of four new spacecraft taking place in July. ICEYE also recently joined the seventh cohort of the Lloyd's of London's innovation accelerator programme, Lloyd's Lab.
ICEYE also today announced Daniel Stander as a Senior Advisor. Stander has spent the last 20 years at the interface of risk and innovation. He is currently a Senior Advisor to the United Nations on matters of risk finance, as well as Deputy Chair of the Resilient Cities Network. He also has extensive experience in quantifying, managing and financing climate risk, having held several leadership positions at Risk Management Solutions (RMS), where he was most recently Global Managing Director.
"The insurance industry has long demanded faster access to accurate, actionable insights - especially in the immediate aftermath of a catastrophic event. Properly integrated into the insurance ecosystem, ICEYE's data can drive efficiencies, improve responsiveness, and ultimately enhance coverage and service to those in need," Stander said. "A key part of my advisory role for ICEYE is meeting with insurers, reinsurers, brokers and loss adjusters, refining how ICEYE can bridge the data gap with timely access to critical hazard and damage data. The initial feedback from the market has been hugely encouraging."
Commenting on the appointments, Charles Blanchet, ICEYE's Vice President of Solutions, added: "At ICEYE, we are fully committed to collaborating with the re/insurance sector to help transform how it predicts, prevents and responds to catastrophic events. A core part of that is investing in market-leading talent; executives who lead with authenticity, who bring deep domain expertise and a relentless client focus. I couldn't be happier with today's announcement. Daniel's guidance so far has been invaluable to the leadership team at ICEYE. Lisa, a pioneer of digital innovation in the insurance market, will in her new role doubtless continue to help reinvent the industry she loves. Nobody is as committed as ICEYE to transforming the insurance value chain with persistent monitoring. Today's announcement demonstrates that commitment."
# # # # #
---
Media Contact:
About ICEYE
ICEYE empowers commercial and government partners with unmatched persistent monitoring capabilities for any location on Earth. The company helps customers make informed, data-driven decisions to address time-critical challenges in various industries, to ensure infrastructure safety, and to protect the environment. ICEYE's radar satellite imaging service, designed to deliver very frequent coverage, both day and night, helps clients resolve challenges in sectors such as maritime, disaster management, insurance, and finance.

For more information on ICEYE's flood monitoring solutions, please visit:
www.iceye.com/flood
www.iceye.com/downloads/flood-briefings
Assets:
Other assets available at https://www.iceye.com/press.
Download images by right-clicking and selecting "save link as":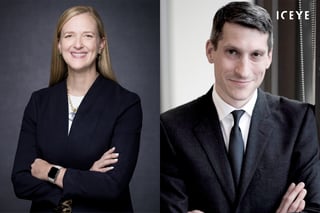 "On the left - Lisa Wardlaw, Global Head of Insurance Solutions, ICEYE. On the right - Daniel Stander, Senior Advisor, ICEYE."

ICEYE logo.
SUBSCRIBE TO ICEYE PRESS RELEASES
Get the latest news and updates from ICEYE directly to your email. Don't forget to follow us on @iceyefi & on LinkedIn. For press inquiries and further materials please refer to our Press section.