The partnership builds on a recent agreement between G42 and Yahsat to develop geospatial analytics-as-a-service and data fusion of different sensor modalities.
Dubai, UNITED ARAB EMIRATES – November 17, 2021 – G42, the leading Abu Dhabi-based artificial intelligence and cloud computing company and ICEYE, a Finnish Synthetic-Aperture Radar (SAR) satellite and analytics provider, have signed a Memorandum of Understanding (MoU) to collaborate on developing advanced SAR products.
The collaboration was formalized at a signing ceremony by Talal Al Kaissi, VP of the G42 Space Program and Jamil Kawar, Director of Global Sales at ICEYE, on the sidelines of the Dubai Airshow.
The agreement between the companies will bring together ICEYE's existing satellite constellation and solutions and G42's geospatial analytics, cloud computing, and AI capabilities for customers in the UAE and beyond. ICEYE's provision of both historical and future SAR imagery and G42 through its AI research arm, the Inception Institute of Artificial Intelligence (IIAI), will jointly develop advanced algorithms and analytics with ICEYE to serve local customers in various fields. Bayanat, G42's geospatial products and services company will benefit by providing these solutions to customers in various domains including oil & gas, municipalities, maritime, environment, disaster management, public safety, and other areas. Additionally, ICEYE will also deploy its cloud-based Near Real Time (NRT) SAR processing capabilities on G42 Cloud to enhance G42's geospatial analytics platform.
G42 recently signed an agreement with Yahsat to bring together a powerful combination of advanced space technology and satellite communications expertise with AI and Big Data. The agreement between G42 and ICEYE promises to augment that objective and provide a holistic offering to end users, as well as enhance the UAE's position as a key destination for world-class space companies looking to serve this market and potentially jointly develop future satellites in-country.
ICEYE operates the world's largest commercial constellation of SAR satellites and has launched 14 spacecraft so far. The company is planning to further expand its constellation with at least four additional satellites by mid-2022, with the objective of reaching an average access time of three hours anywhere on the globe.
Talal Al Kaissi, VP of the G42 Space Program said, "The combination of ICEYE's near real-time image acquisition capability coupled with G42's advanced AI, cloud, and supercomputing capabilities, presents a compelling offering to end-users that require actionable intelligence in a digestible format to enable swift decision making. There are a multitude of new use cases in a variety of different industries that can benefit from such products, and we plan to leverage our ecosystem partners in collaboration with ICEYE to unlock these markets."
Jamil Kawar, Director of Global Sales at ICEYE said, "This is truly a ground-breaking collaboration for ICEYE and it's a first major step in the Middle East region for our increasingly growing company. I'd like to thank the G42 organization for the trust they have put in our ICEYE team and we eagerly look forward to further cementing the great collaboration between both our companies moving forward."
# # # # #
---
About G42
G42 is an Abu Dhabi-based global leader in artificial intelligence and cloud computing obsessed about exploring the full potential of AI as a tool that powers progress.
Born out of its world-class AI research capabilities, today G42 is building the largest cloud computing infrastructure in the MENA region and manages a diversified portfolio of companies that develop and deploy high-impact, holistic AI solutions across a wide range of industries, including Smart City, Healthcare and Life Sciences, Oil & Gas, Financial Services, Sports, Aviation, Geospatial, and more.
As it pursues its mission, G42 partners with the best of the best, including nations, corporations and individuals, to move the world forward.
About ICEYE
ICEYE delivers unmatched persistent monitoring capabilities for any location on earth. Owning the world's largest synthetic-aperture radar constellation, the company enables objective, data-driven decisions for its customers in sectors such as insurance, natural catastrophe response and recovery, security, maritime monitoring and finance. ICEYE's data can be collected day or night, and even through cloud cover. For more information, please visit www.iceye.com.
Media Contact:
press@iceye.fi
Assets:
Other assets available at https://www.iceye.com/press.
Download images by right-clicking and selecting "save link as":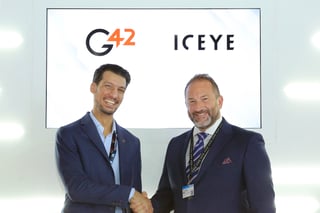 "Photo of Talal Al Kaissi, VP of the G42 Space Program and Jamil Kawar, Director of Global Sales at ICEYE."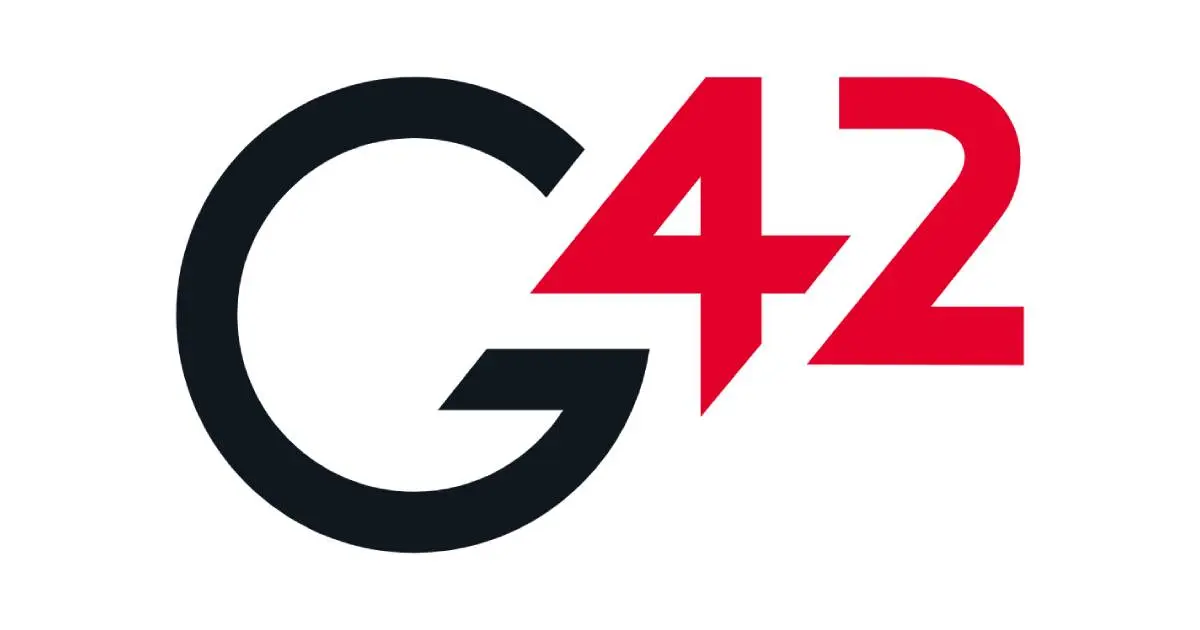 G42 logo.

ICEYE logo.
SUBSCRIBE TO ICEYE PRESS RELEASES
Get the latest news and updates from ICEYE directly to your email. Don't forget to follow us on @iceyefi & on LinkedIn. For press inquiries and further materials please refer to our Press section.