Helsinki, FINLAND – April 20, 2022 – ICEYE, a world-leading SAR data provider and expert in environmental flood hazard data, and EigenRisk®, a leading and independent insurance technology platform provider, have today announced a new agreement to incorporate ICEYE's unique flood insights for large-scale flood events into the EigenPrism® catastrophe risk management platform.
EigenPrism provides a single, cloud-based platform for catastrophe data, analytics, modeling and reporting. Spanning all major perils, the system is designed to support enhanced planning, monitoring and response capabilities for global catastrophes.
ICEYE owns and operates the world's largest SAR satellite constellation. By combining high-resolution satellite imagery with auxiliary information sources, the company generates unique flood observation data anywhere in the world in near real-time, including accurate flood extent footprints and detailed flood depth measurements at the individual building level.
"With the impact of global climate change, flood exposures now pose more significant threats than ever to businesses, communities and government entities in all areas of the world, and difficult challenges for commercial and residential insurers, and reinsurance companies," said Deepak Badoni, president, EigenRisk. "Our relationship with ICEYE provides access to valuable data to quickly evaluate inland or coastal flood footprints anywhere in the world, which can help facilitate timely event response and loss sizing exercises."
"We're pleased to work with EigenRisk as one of our ICEYE Solutions Partners and to offer our market-leading flood insights to the risk management and insurance community through their EigenPrism platform," said Rafal Modrzewski, chief executive officer and co-founder, ICEYE. "Our satellite-based flood monitoring tools deliver precise assessments in near real-time regardless of weather conditions, which make them critical resources for effective flood risk management and disaster response."
# # # # #
---
About EigenRisk®
EigenRisk, Inc., an independent insurance technology firm, helps (re)insurers, brokers and risk managers across the globe manage catastrophe risk, and drive higher growth, customer engagement and operational efficiency. The firm's cloud-based platform provides one-stop access to powerful data management, geo-visualization, analytics, reporting, modeling, alerts and APIs. These capabilities are integrated with hazard data, event projections and simulations curated from more than 20 leading public and private sources to provide a more dynamic and complete perspective of risk. Visit www.eigenrisk.com.
About ICEYE
ICEYE delivers unmatched persistent monitoring capabilities for any location on earth. Owning the world's largest synthetic-aperture radar constellation, the company enables objective, data-driven decisions for its customers in sectors such as insurance, natural catastrophe response and recovery, security, maritime monitoring and finance. ICEYE's data can be collected day or night, and even through cloud cover. For more information, please visit: www.iceye.com.
Media Contact:
press@iceye.fi
Assets:
Other assets available at https://www.iceye.com/press.
Download images by right-clicking and selecting "save link as":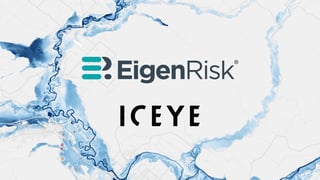 "ICEYE flood visualization with ICEYE and EigenRisk® logos."

ICEYE logo.
SUBSCRIBE TO ICEYE PRESS RELEASES
Get the latest news and updates from ICEYE directly to your email. Don't forget to follow us on @iceyefi & on LinkedIn. For press inquiries and further materials please refer to our Press section.