New flood solution powered by ICEYE enables insurers to reduce the cost of extreme weather events.
Helsinki, FINLAND – November 17, 2021 – ICEYE, the global leader in persistent monitoring with radar satellite imaging and a provider of flood hazard data, today announced a new collaboration with Aon plc (NYSE: AON), a leading global professional services firm providing a broad range of risk, retirement and health solutions, to provide insurers with flood hazard data following severe flooding events in Japan, helping them to reduce volatility and better understand the post-event impact on their portfolios.
According to the Japan Meteorological Agency (JMA), Japan experiences an average of three typhoon landfalls and several flood events annually. In 2018 and 2019, the country was subject to three of the five largest wind and flood insurance losses in Japan's history, with insurers settling claims of more than $30 billion over the two-year period.
Rupert Moore, CEO for Aon's Reinsurance Solutions in Japan, said: "Aon and ICEYE share a belief that better data leads to better decisions and, in turn, better outcomes. Our collaboration with ICEYE aims to assist clients with improving the robustness and accuracy of their responses to flooding events in Japan as they navigate this form of volatility. The combination of ICEYE's technology and Aon's buildings database provides a unique and innovative way for them to better address potential claims post-flooding in the country with more information and insights."
The satellite solution combines ICEYE's Synthetic-Aperture Radar (SAR) data with Aon's digital building datasets generated by using Aon's patented technology to deliver near real-time insights on the potential consequences of flood events. This allows insurers to assess the potential impact of a flood on their portfolio within 24 hours of the water's peak, enhancing insurers' reserving and claims handling process with a faster response time.
Rafal Modrzewski,ICEYE's CEO, said: "Both of our firms have a laser focus on helping insurers reduce their combined ratios, improve their service to policyholders and close the protection gap. The collaboration between ICEYE and Aon demonstrates our continued commitment to helping clients leverage innovations that deliver strategic value. Together we are enabling the kind of digital transformation that will lead to a step change in efficiency and client service for the insurance industry."
ICEYE builds and operates its own commercial constellation of SAR satellites, which can image any location on Earth, day and night, regardless of cloud cover, multiple times a day. Aon combines ICEYE data with its proprietary building exposure to help clients estimate the potential impact on their portfolios. Aon's collaboration demonstrates its commitment to helping clients leverage emerging technologies to meet their strategic objectives. For more information, please click here.
# # # # #
---
About Aon
Aon plc (NYSE: AON) is a leading global professional services firm providing a broad range of risk, retirement and health solutions. Our 50,000 colleagues in 120 countries empower results for clients by using proprietary data and analytics to deliver insights that reduce volatility and improve performance.

Aon UK Limited is authorised and regulated by the Financial Conduct Authority for the provision of regulated products and services in the UK. Registered in England and Wales. Registered number: 00210725. Registered Office: The Aon Centre, The Leadenhall Building, 122 Leadenhall Street, London EC3V 4AN. Tel: 020 7623 5500.

Follow Aon on Twitter and LinkedIn. Stay up to date by visiting the Aon Newsroom and hear from Aon's expert advisors in The One Brief. Sign up for News Alerts here.
Media Contact:
Andrew Wragg
andrew.wragg@aon.com
+44 (0) 7595 217168
About ICEYE
ICEYE delivers unmatched persistent monitoring capabilities for any location on earth. Owning the world's largest synthetic-aperture radar constellation, the company enables objective, data-driven decisions for its customers in sectors such as insurance, natural catastrophe response and recovery, security, maritime monitoring and finance. ICEYE's data can be collected day or night, and even through cloud cover. For more information, please visit www.iceye.com.
Media Contact:
press@iceye.fi
Assets:
Other assets available at https://www.iceye.com/press.
Download images by right-clicking and selecting "save link as":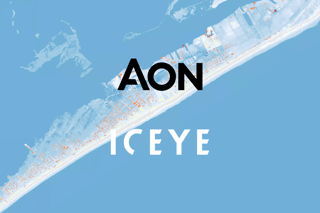 "Aon plc and ICEYE logos with flood extent visualisation in the background."
Aon logo.

ICEYE logo.
SUBSCRIBE TO ICEYE PRESS RELEASES
Get the latest news and updates from ICEYE directly to your email. Don't forget to follow us on @iceyefi & on LinkedIn. For press inquiries and further materials please refer to our Press section.