New Space veteran with more than 25 years of experience in satellite mission management to drive growth of ICEYE SAR satellite constellation.
Helsinki, FINLAND – July 12, 2019 – ICEYE, the global leader in small satellite synthetic-aperture radar (SAR) technology, today announced the appointment of Steve O'Donnell, a seasoned space industry professional, as Vice President of Space Missions. The appointment coincides with ICEYE's recent July launch of two additional radar imaging satellites, and it further signals ICEYE's intent to increase the total amount of missions and the capabilities of its spacecraft that are in use for government and commercial customers.
Prior to joining ICEYE, O'Donnell worked at Surrey Satellite Technology Ltd (SSTL) for more than 15 years, managing the design, build, test, verification and delivery of spacecraft across multiple missions. These include the Galileo GNSS pathfinder craft Giove-A, NovaSAR and GEO based in orbit servicing missions as well as several constellations including RapidEye, FormoSat-7, DMC-3 and Galileo GNSS payloads. He has a proven track record of delivering significant spacecraft production, quality, reliability and resource optimisations based on this wide experience. O'Donnell also previously worked for the UK Meteorological Office developing radiometric instruments probing atmospheric temperature and humidity profiles and detecting critical climate change indicators such as seasonal sea ice trends. This led to extensive work on the Advanced Microwave Sounding Unit B (AMSU-B) spacecraft instruments which now fly as part of the NOAA/NASA TIROS weather satellite program.
"What ICEYE has been able to accomplish in such a short period of time is a clear indication of the team's hard work and dedication," said Steve O'Donnell, Vice President of Space Missions, ICEYE. "I'm honored to be joining this determined team and to help see ICEYE's satellite missions through all the way to delivering increased value for customers."
"With an extensive background managing some of the most well-known missions and spacecraft in our industry, Steve O'Donnell's leadership will be instrumental as we launch additional satellite missions," said Rafal Modrzewski, CEO and co-founder, ICEYE. "With Steve's contributions combined with our talented teams, we are able to provide customers with the most timely and reliable SAR data available."
In addition to launching two SAR satellites in 2018, ICEYE is on track to launch a total of five SAR units throughout 2019, expanding its commercial capabilities for the delivery of SAR satellite imagery to customers worldwide. The commercial SAR satellite constellation of ICEYE is used to provide a standard data service to customers, in addition to the company serving selected partners with custom capabilities from ICEYE satellites.
# # # # #
---
About ICEYE
ICEYE is building and operating its own commercial constellation of SAR satellites, with SAR data already available to customers. ICEYE empowers others to make better decisions in governmental and commercial industries by providing access to timely and reliable radar satellite imagery. The company is tackling the current crucial lack of actionable information with world-first aerospace capabilities and a New Space approach. ICEYE's radar satellite imaging service, designed to deliver coverage every few hours, both day and night, helps clients resolve challenges in sectors such as maritime, disaster management, insurance, and finance. For more information, please visit: www.iceye.com
Media Contact:
Assets:
Other assets available at https://www.iceye.com/press.
Download images by right-clicking and selecting "save link as":

ICEYE logo.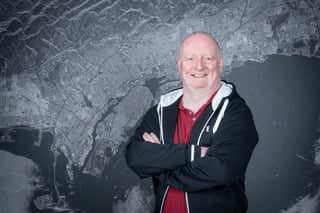 Steve O'Donnell, Vice President of Space Missions, ICEYE.
SUBSCRIBE TO ICEYE PRESS RELEASES
Get the latest news and updates from ICEYE directly to your email. Don't forget to follow us on @iceyefi & on LinkedIn. For press inquiries and further materials please refer to our Press section.