Funding from leading venture capital firms will help launch first radar-based microsatellites
Helsinki, Finland, 12 November 2015 – Iceye announced today a $2.8 million Series A funding round led by True Ventures, with participation from Lifeline Ventures and Founder.org. In September, ICEYE also secured € 2.5 million in R&D funding from SME Instrument within EU Horizon 2020.
Iceye provides quick-response imagery from space with microsatellites equipped with imaging radar technology. The Iceye instrument can see through clouds, obscuring weather, and in the dark—all conditions that limit camera-based services in situations where waiting for daylight and nice weather is not an option.
Iceye's imaging radar instrument allows the company to supply unique, near-real- time imagery globally, with groups of small satellites. With the radar instrument, the satellites can acquire images regardless of weather or daylight conditions, so the information will be available even in situations where camera-based satellites cannot see the target. This new reliable data source is needed not only by industries such as logistics, insurance, and energy, but also by organizations monitoring climate and environment, or providing search and rescue services.
Co-founder and CEO Rafal Modrzewski described one such use case:
"Just last week, we were in Greece to help the aid organizations. They are struggling to rescue the refugees crossing the bay to Lesvos in their overcrowded boats," he said. "We brought ground-based radars to track the vessels, and they were game-changing to the rescue operation—but their range is limited. The order-to- delivery time for commercially available satellite imagery is around a week, which doesn't help if the boats can capsize and disappear in minutes. That's why we are working hard every day to get our own service up and running," he said.
"Governmental and military operators own and use radar satellites already," added Pekka Laurila, co-founder and CFO. "We want to make this technology accessible to everyone at a commercially feasible cost level, which means reducing the satellite unit prices over 100-fold compared to traditional satellites. One of the ways we achieve this is by utilizing off-the- shelf mobile electronics and mass manufacturing."
"The need and opportunity for Iceye's satellites are enormous," said Jyri Engeström, member of the investment team at True Ventures. "From forest fires, to floods, to search and rescue operations, to agricultural uses, Iceye will be able to provide critical real-time information that today's technology cannot. The market for this product is real, and we believe this is the team to lead it."
---
About Iceye – Iceye is building a satellite-based information service, providing the world with access to near-real- time imagery from space. The Iceye imaging radar instrument can image through clouds, obscuring weather and darkness, making the system more reliable for operational use than camera-based systems. ICEYE has received funding from the European Union's Horizon 2020 research and innovation programme via the SME Instrument. More information: www.iceye.fi
About True Ventures - Founded in 2005, True Ventures is a Silicon Valley-based venture capital firm that invests in early-stage technology startups. With capital under management in excess of $1 billion, True provides seed and Series A funding to the most talented entrepreneurs in today's fastest growing markets. With a mission to make the world a better place for entrepreneurs, True encourages each founder's vision and has built resources to empower the employees, families and communities of its portfolio companies. The firm maintains a strong founder community and offers innovative educational opportunities to its portfolio, helping entrepreneurs achieve higher levels of success and impact. With more than 200 companies funded and multiple companies acquired, the current True portfolio has helped create over 5,000 jobs. To learn more about True Ventures, visit www.trueventures.com.
About Lifeline Ventures - Lifeline Ventures is a Finland-based early-stage venture capital firm founded by serial entrepreneurs. We invest in strong founders in sectors we know by heart from our experience as entrepreneurs. Due to our background, we often start working with founders before they have launched their first product. Our goal is to be the first person the entrepreneur reaches out to in times of trouble and joy. So far, we have invested 50 companies including category-leaders such as Applifier, Enevo, Moves app, Supercell, uBiome, Valkee and ZenRobotics. More information: www.lifelineventures.com.
About Founder.org - FOUNDER.org invests in young innovators solving important problems and helps them build world changing companies. FOUNDER.org is a new model for building and funding important companies. Every year, they award 50 of the most innovative startups from universities around the world each up to $100K. Over the next 12 months, these teams take part in a series of intense challenges to help them build a scalable company. The challenges are based on 8D, FOUNDER.org's company building science.FOUNDER.org leads Seed and Series A investments in the most promising companies. FOUNDER.org was started by a team of serial Silicon Valley entrepreneurs who have built billion dollar companies and are now working with the next generation of innovators to help them alter the future and transform our world in profoundly positive ways. Learn more at FOUNDER.org.
About SME Instrument - SME Instrument is a part of the prestigious funding program from the European Commission, Horizon 2020. It funds the most innovative projects held by small and medium-sized enterprises. The program aims to strengthen the innovation of European companies and help in faster introduction to the market.
---
Media Contact:
Assets:
Download by clicking: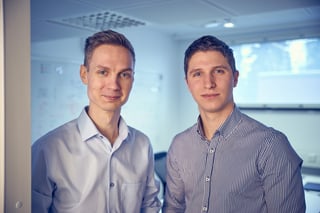 Co-founder and CFO Pekka Laurila (left), Co-founder and CEO Rafal Modrzewski (right).
ICEYE logo (2017).
SUBSCRIBE TO ICEYE PRESS RELEASES
Get the latest news and updates from ICEYE directly to your email. Don't forget to follow us on @iceyefi & on LinkedIn. For press inquiries and further materials please refer to our Press section.