ICEYE CSO & Co-founder Laurila to highlight the mutually positive impacts of ICEYE's collaboration with Finland's top tech universities and space community.
Helsinki, FINLAND – November 28, 2019 – ICEYE, the global leader in small satellite synthetic-aperture radar (SAR) technology, will join business, policy-makers, international experts and the space application user community in Helsinki at European Space Week 2019. Pekka Laurila, ICEYE's Chief Strategy Officer and Co-founder, will speak on the growing importance of Finland in the global space industry.
"Each year this event convenes the top experts related to the Space programmes within Europe. As the European forerunner in New Space satellite missions, we are particularly excited to be able to highlight and discuss recent developments originating from Finland, and their impact to the whole European space community," said Pekka Laurila, CSO and co-founder of ICEYE.
ICEYE was originally founded as a spin-off from Finnish Aalto University's satellite program. After ICEYE launched the first Finnish commercial satellite in 2018, aerospace and related research activities have continued to expand especially in Finland, with positive impact to the global Earth observation and space industry.
"Finland's top universities such as Aalto University, and incubation centres like ESA BIC have a crucial role in accelerating space industry development in Europe," said Jaan Praks, Professor of electrical engineering at Aalto University. "Our rapid growth in space sector in Finland is important part of the success of whole space industry in Europe. Our investment in universities into space related technology and research has resulted in success in economy though new products and companies. The accelerating innovation in space sector has benefited governments, industry, and universities alike."
European Space Week, held in Helsinki between December 1-5, 2019, will be offering an exciting collection of events ranging from keynotes, discussions and conference sessions, complemented by a hackathon, an accelerator boot camp, an awards ceremony and more. These will address various space-related themes, including how space solutions can help to strengthen the EU's position as a global leader in climate action, the new space economy for sustainable growth, sustainable space economy: saving space for future generations and space solutions for a sustainable Arctic. You can find the full agenda for EU Space Week 2019 here.
# # # # #
---
About ICEYE
ICEYE is building and operating its own commercial constellation of SAR satellites, with SAR data already available to customers. ICEYE empowers others to make better decisions in governmental and commercial industries by providing access to timely and reliable radar satellite imagery. The company is tackling the current crucial lack of actionable information with world-first aerospace capabilities and a New Space approach. ICEYE's radar satellite imaging service, designed to deliver coverage every few hours, both day and night, helps clients resolve challenges in sectors such as maritime, disaster management, insurance, and finance. For more information, please visit: www.iceye.com
Media Contact:
Assets:
Other assets available at https://www.iceye.com/press.
Download images by right-clicking and selecting "save link as":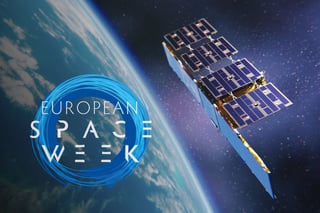 "An artist's depiction of an ICEYE SAR microsatellite."

ICEYE logo.
SUBSCRIBE TO ICEYE PRESS RELEASES
Get the latest news and updates from ICEYE directly to your email. Don't forget to follow us on @iceyefi & on LinkedIn. For press inquiries and further materials please refer to our Press section.