New Space companies partner for launches as small sat industry blasts off.
Helsinki, FINLAND – Aug 22, 2018 – ICEYE, an Earth observation company creating the world's largest Synthetic-aperture radar (SAR) satellite constellation, today announced an agreement with ECM Space to launch two or more ICEYE SAR satellites into different target orbits over the next years. Leveraging ECM Space's experience launching small satellites, the partnership will contribute to ICEYE creating the world's largest SAR satellite constellation by the end of 2019, aimed to critically increase the frequency and availability of SAR satellite imagery for business and government customers.
As part of the longer-term agreement, ECM Space will provide launch arrangements to ICEYE as the company forges ahead on the development of its initial 18 SAR satellite configuration. The first two launches of the cooperation agreement will be performed starting this year through 2019.
"We are happy to have a new European partner such as ICEYE with their ambitious launch program," said Dmitry Bogdanov, CEO of ECM Space. "We have already arranged two new launches for ICEYE, with preparations currently underway, and look forward to pushing the boundaries forward for New Space together."
Tackling a global shortage of actionable land and sea data, ICEYE's radar satellites provide SAR imagery taken every few hours of any point on Earth, regardless of the time of day or cloud cover. Using this rich data and the fastest revisit rates for reliable imaging, ICEYE helps solve problems in a wide range of sectors, such as maritime, disaster management, insurance, finance, oil and gas, security and intelligence.
"ICEYE is quickly moving forward with the launch of our constellation of SAR satellites with a key focus on efficiency," said Rafal Modrzewski, CEO and co-founder of ICEYE. "By partnering with ECM Space on launch arrangements, we can keep focusing on the advanced development and operation of our SAR satellites." ICEYE aims to launch 9 upcoming satellites by the end of 2019.
# # # # #
---
Media Contact:
About ICEYE
ICEYE empowers others to make better decisions in governmental and commercial industries by providing access to timely and reliable satellite imagery. The company is tackling this crucial lack of actionable information with world-first aerospace capabilities and a New Space approach. ICEYE's radar satellite imaging service, with coverage of selected areas every few hours, both day and night, helps clients resolve challenges in sectors such as maritime, disaster management, insurance, finance, security and intelligence. ICEYE is the first organization in the world to successfully launch synthetic-aperture radar (SAR) satellites with a launch mass under 100 kg. For more information, please visit: www.iceye.com
About ECM Space
ECM Space is a leading European launch services provider and cluster integrator, offering easy, cost-effective and regular access to space for small satellites. Over the past year, ECM Space has arranged launches for more than 40 international small satellites to sun-synchronous orbits and plans to launch over 50 international small satellites in 2018-2019. With a variety of launch opportunities (SSO, HEO, GTO/GEO) and focusing on an individual approach to each satellite, ECM Space provides the most optimal launch solutions for start-ups, universities, commercial companies, space agencies and scientific institutions. Supplementary to the launch services, ECM Space designs and manufactures in-house 12U/16U CubeSat launch deployers and develops low-shock separation systems for microsatellites. For more information, please visit: www.ecm-space.de
Assets:
Other assets available at https://www.iceye.com/press .
Download by clicking: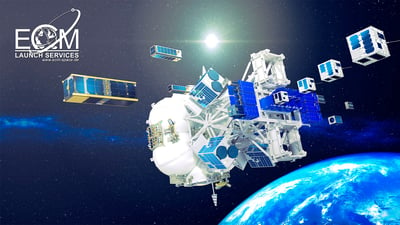 "Illustration of satellite deployment by ECM Space."

ICEYE logo.
SUBSCRIBE TO ICEYE PRESS RELEASES
Get the latest news and updates from ICEYE directly to your email. Don't forget to follow us on @iceyefi & on LinkedIn. For press inquiries and further materials please refer to our Press section.