The collaboration is set to establish a higher radar imaging data availability for both governmental and commercial organisations in South Korea.
Helsinki, FINLAND – May 15 – APSI, Asia Pacific Satellite Inc., and ICEYE, the global leader in small satellite synthetic-aperture radar (SAR) technology, announced today that the organizations have signed a memorandum of understanding about working together to support the South Korean New Space market. As a part of the agreement, APSI will supply ICEYE's SAR imagery in South Korea and also provides mutual support from both APSI and ICEYE to deliver radar imaging related satellite solutions for the South Korean market.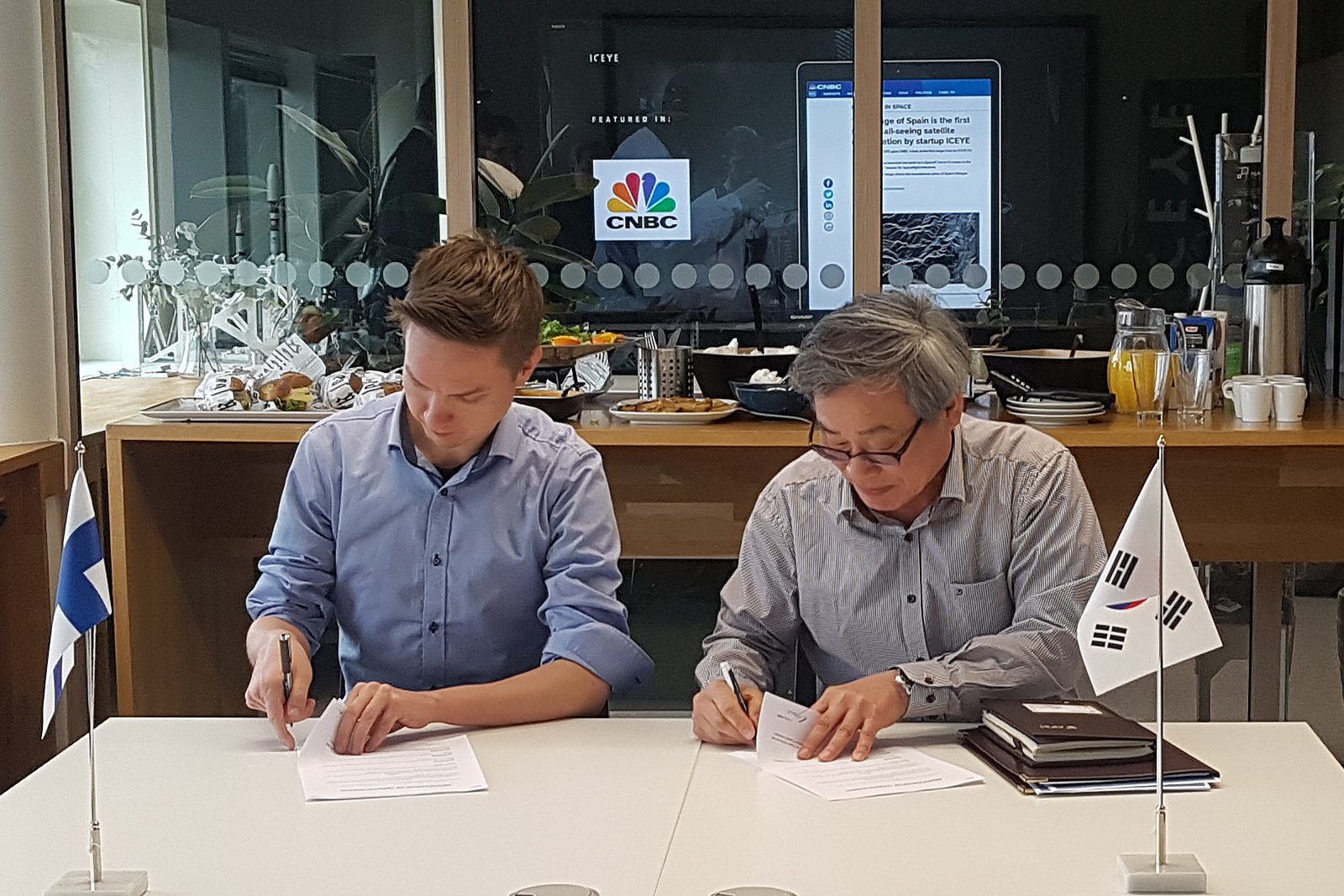 Jang Soo Ryoo, Ph.D Chairman and CEO of APSI and Pekka Laurila, CSO and Co-founder of ICEYE at ICEYE offices in Finland at the singing of the contract.
ICEYE successfully launched its second radar imaging satellite, ICEYE-X2, in early December 2018 , receiving significant attention in the global Earth observation market. The satellite launch was an initial step towards creating the necessary SAR satellite constellation of ICEYE for frequent and reliable satellite-based information about any location on Earth, regardless of the time of day, and even through cloud cover.
ICEYE is providing commercial data services to both government and industry users. The company is actively increasing the size of its SAR satellite constellation, with up to five more satellites being launched throughout 2019. ICEYE's small SAR satellites can be manufactured and launched cost-effectively, providing up to 1-meter resolution SAR images.
APSI is a provider of equipment and services for multiple government programs in South Korea, and with the support of ICEYE's leading technology, will grow to provide further data, hardware and radar imaging solutions to the governmental and commercial customers in South Korea.
# # # # #
---
Media Contact:
About APSI
Asia Pacific Satellite Inc. develops, manufactures, and sells satellite communication devices worldwide. The company also offers satellite bus system design services; solid state recorders; On-Board Computers; Image Data Handling Units, Electrical Ground Support Equipment; and satellite Assembly, Integration, Test services. Asia Pacific Satellite Inc. was founded in 2000 and is headquartered in Seoul, South Korea.
About ICEYE
ICEYE empowers others to make better decisions in governmental and commercial industries by providing access to timely and reliable satellite imagery. The company is tackling this crucial lack of actionable information with world-first aerospace capabilities and a New Space approach. ICEYE's radar satellite imaging service, with coverage of selected areas every few hours, both day and night, helps clients resolve challenges in sectors such as maritime, disaster management, insurance, and finance. ICEYE is the first organization in the world to successfully launch synthetic-aperture radar (SAR) satellites with a launch mass under 100 kg. For more information, please visit: www.iceye.com
Assets:
Other assets available at https://www.iceye.com/press.
Download images by right-clicking and selecting "save link as":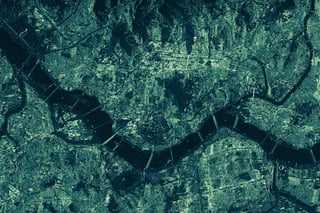 "ICEYE-X2 radar satellite image of Seoul, South Korea, taken during February 2019."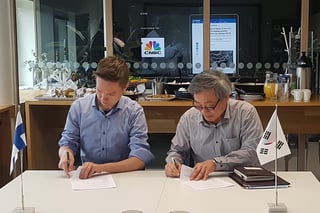 "Jang Soo Ryoo, Ph.D Chairman and CEO of APSI and Pekka Laurila, CSO and Co-founder of ICEYE at ICEYE offices in Finland at the singing of the contract."

ICEYE logo.

APSI, Asia Pacific Satellite Inc., logo.
SUBSCRIBE TO ICEYE PRESS RELEASES
Get the latest news and updates from ICEYE directly to your email. Don't forget to follow us on @iceyefi & on LinkedIn. For press inquiries and further materials please refer to our Press section.